STEELWORK FUTURE IN DOUBT AS MT GIBSON AND ARRIUM IRON ORE LOSSES STILL AT LARGE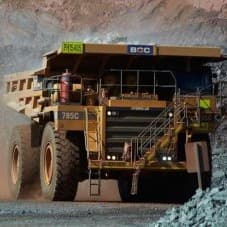 The steelwork industry is still in trouble as reported losses are large for iron ore miners, Mt Gibson and Arrium, as prices remain under $US50 a tonne.
Previously known as OneSteel, the South Australian company, Arrium has reported an after tax loss of $235.8 million for the half year to the end of December. Although this was down from the $1.5 billion lost last year, the companies $24.1 million loss, was down another 7.6% on the same period a year ago.
They are in the process of terminating hundreds of jobs in order to minimise losses, thanks to falling iron ore prices.
Asset value write-downs and the cost of redundancy is all part of the company's net loss.
The iron ore sector of the company was hit with a pre-tax and pre-interest loss of 20 million.
The average ore price at the end of last year were at $US43 a tonne, the company's total cost of production was at $US57.60, providing obvious reasons for the company's loss.
With the massive loss in the iron ore sector, Arrium has seen a seen some benefits to its steelmaking division, with a reported a 238% rise in underlying pre tax and interest earnings.
However, Arrium has said its Whyalla steelworks is the division that is loosing money, with a reported loss of $43 million, blamed on the falling Asian steel prices.
Although there has been a $100 million cost reduction identified in October, alongside the removal of hundreds of jobs, they still need another $60 million to breakeven with current steel prices.
With plans to put the steelwork in care and maintenance, to shut down the steelmaking operations, the plans should be completed by the middle of year.
Arrium has said that they will take the action if steel prices do not improve, costs are not minimised, and if there is not enough government support.
Similarly, Mt Gibson is struggling with the company reporting a net loss of $15.4 million for December half year, which is an improvement from last year.
The company has said that it will continue the operation even with the current iron ore prices.