STATE-OF-THE-ART TRAINING HUB OPENS IN SA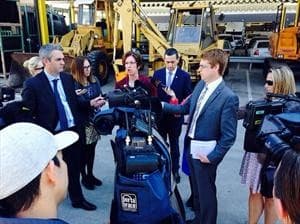 The state-of-the-art TAFE SA training hub has opened its doors to the next generation of workers in the resources sector and other key industries.
The $38.3 million Mining, Engineering and Transport (MET) Centre will help deliver training for the 25,000 new workers projected to be required by mining, transport, defence, engineering and allied industries over the next five years.
SA Employment, Higher Education and Skills Minister Gail Gago said the MET Centre at Regency Park, Adelaide, will ensure South Australia has a locally trained workforce for industries that drive the State's economic prosperity.
"For the first time, students in these key areas will be able to train in the same location, providing valuable opportunities for cross-discipline and dual trade training, Ms Gago said.
"The MET Centre consolidates and integrates programs previously delivered across several metropolitan campuses in one centralised training hub.
"The State Government is committed to ensuring people have opportunities to improve their skills and capacity to find rewarding jobs in areas of strategic priority to SA."
Ms Gago said the MET will offer courses across key faculties including automotive, electronics & computer systems, engineering and transport, mechanical and civil engineering, fabrication and mining.
"More than 700 students have already begun training, and there is a 3,000 student capacity," she said.
"We anticipate the number of students will increase significantly as the employment market in these areas expands. "This centre is an assertion of confidence in our belief that South Australia has the resources and the people to build the prosperous future we want."
Mineral Resources and Energy Minister Tom Koutsantonis said thousands of jobs are expected to be created in the next 15 years by resources and energy companies in SA.
"We need to ensure we have the skills and capability here in SA to capitalise on the billions of dollars being invested in our State by the resources sector," Mr Koutsantonis said.
"This investment links in perfectly with one of our key economic priorities to unlock the full potential of SA's resources, energy and renewable assets."