Published 03-06-2021
| Article appears in June 2021 Issue
State-of-the-art robotics helps Holloway keep jobs in Australia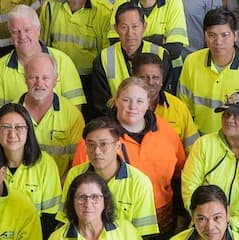 With its Minto location filled with an impressive mix of 3 and 6 axial state-of-the-art robots, Holloway Group embraced manufacturing automation when other businesses were moving operations offshore. The result, Group Managing Director Matt Holloway says, was a resounding affirmation of the company's commitment to Australian made and a reinvestment into the business's loyal and skilled workforce.
The decision to mechanise elements of the manufacturing process was an easy one Holloway says, as it alleviated staff of repetitious or dangerous tasks; reducing workplace errors and associated injuries. New streamlined, automated processes were implemented, decreasing manufacturing lead times and increasing staff productivity.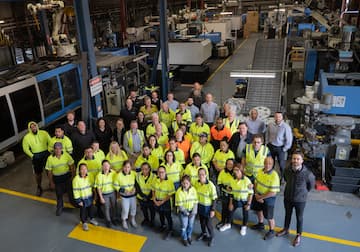 The investment into additional automation cells also afforded operations staff an opportunity to develop new skills sets and take on responsibilities in other areas of the business. "Offering staff career progression and skills pathways was a huge benefit for us. Staff attrition in operations is next to zero and our capabilities increased exponentially," Holloway says.
Outside of its proprietary range of products for hero brands A Plus Plastics, Ausdrain and Geohex, the company also manages high-volume custom moulding manufacturing for companies as committed to Australian made as it is. The implementation of state-of-the-art, energy-efficient machinery equates to output that is scalable, without compromising product quality or staff safety. With the company's machinery some of the largest of its kind in the southern hemisphere, Holloway Group's ISO9001 certified facility will continue to grow to keep up with market demand for its end-to-end product manufacturing offer.
Champions of Australian manufacturing, Holloway Group launched Bring it Home in late 2020, with the aim to bring business that had been moved offshore, back home to Australia. Holloway says Australian-based operations, re-shored or otherwise, add innumerable value to the long game of the country. "Our commitment to Australian made goes beyond a superior product or market offer, it means lower unemployment, higher living standards for families and better long-term outcomes for industry and the economy."
Holloway Group is supported by a team of more than 70 staff across operations, logistics, administration, and sales.