STARTUP ENGINEERING TEAM HAS LONG PEDIGREE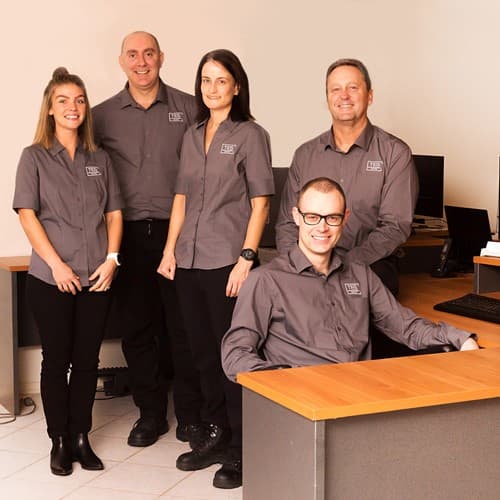 Gary Telford, back row, right, with (from left) team members Kim Flanagan, Admin Manager, Daniel Wade, Senior Draftsperson, Megan Abercrombie, Electrical Draftsperson and (in front), Doug Read, Senior Draftsperson
An engineering team with decades of experience in major resources, construction and infrastructure projects has formed a new company to offer broad-based and cost-efficient solutions to startup, refurbishment, site revitalisation and process improvement projects nationally.
Telford Engineering Solutions (or TES) is a diversified multidisciplined design, modelling, drafting and engineering organisation, providing solutions within the mechanical, structural, civil, electrical, environmental, mining, energy, municipal, material handling, wastewater, waste-to-energy and recycling sectors.
"We deliver a broad range of skills and experience from one source, offering skilled design to create measurable profitability and productivity for clients," says TES Managing Director and Lead Design Engineer, Gary Telford.
"Our advantages to clients in established industry as well as growing new recycling and environmentally focussed sectors include our multidisciplinary skills, combined with our proven experience across a broad range of material handling projects. These range from the design and implementation of new facilities, through to upgrades and modifications to existing material handling systems across a number of industrial and resource sectors, including recycling, coal and iron ore," he adds.
The TES team is also an industry innovator, designing and developing concepts such as modular conveyor systems that save time and money in bringing mining, materials handling and waste-to-energy projects to fruition, even on remote sites and on sites where custom-engineering would involve extensive engineering and delay.
TES will also continue and expand its team's long association with major clients and partners in the resources and infrastructure sector, including particularly the Chute Technology Group, of which Gary Telford is a Joint Founder, along with Materials Handling Engineer Dennis Pomfret of Dennis Pomfret Engineering and the Managing Director of TW Woods Construction, Tom Woods.
Chute Technology and TES team members have been involved in major recent resources and infrastructure projects, including coal loader capacity upgrades, municipal and state marine infrastructure design and construction projects and the rehabilitation, recommissioning and process improvement of Glencore's Integra mine.
The TES team, working with long established partners, has also been involved in projects for companies such as Delta Energy, Incitec Pivot, water and wastewater authorities, Integra Coal, Laing O'Rourke, Xstrata and surface and underground mining companies throughout Australia including iron ore producers in the Pilbara and coal companies in Queensland.
"Using cutting edge design and modelling technology, our highly trained and experienced design drafting and detail drafting team develop conceptual and layout designs, prototype modelling, workshop and as-built drawings incorporating various projects for plant, equipment, manufacturing and construction," says Gary Telford.
"Our understanding of the special requirements of higher-level design – together with the ability and experience of our design team to anticipate critical design requirements – ensures project efficiency and success."
Telford Engineering Solutions
02 40891100
www.t-es.com.au