Starrett video-based metrology: 'measurement on steriods'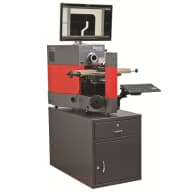 Starrett Australia offers a new and constantly expanding range of vision measurement systems, optical and hybrid video comparator systems.
The company is part of the global 133-year old US based LS Starrett Company.
And its products are made in two of Starrett's factories in California at the Starrett Kinemetric facility as well as at the specialist optical products manufacturing plant in Scotland.
While optical comparators (or the "shadowgraph" as some people like to call them) have been available in the market for many years now Starrett have developed a whole new way of using these products.
They recently released an advanced Windows based measurement software, known as M2 software from US-developer – Metlogix.
Available on tablets or touch-screen PCs, it is designed to help make measurement of features simpler, more user friendly – and highly accurate.  
"These systems are now more graphical and easy to use – just like using a smartphone, said David Eldridge, business development manager of Starrett Metrology Products in Australia. "It allows shopfloor staff to take measurements quickly, accurately and above all with high levels of repeatability when using functions such as optical edge detection in both horizontal and vertical comparator configurations. 
"These products now allow manufacturers, toolmakers and other industrial users to take measurements on the run – both quickly and easily with a minimum of set-up and no programming knowledge."
The Starrett range of vision systems has recently been expanded and further enhanced with the release of the MVR and AVR ranges of manual and CNC-controlled vision system developed at Starrett's Kinemetric US division. 
These systems now feature a granite base for high accuracy and repeatability and are available with either video camera with a zoom lens or with interchangeable telecentric lenses for even higher accuracy and large field of view measurement.  
The software, again from Metlogix, is the M3 version – for video systems, and is available with advanced features such as field of view measurement, full programming capabilities and data export functionality.    
The range starts with the MVR200 system with a two-axis 200x100mm stage and a 6.5:1 zoom lens and M3 software at under $20,000 delivered and installed anywhere in Australia and even the very sophisticated and full-feature AVR300 vision systems with 300x200x200 three-axis movement, CNC control, a 12:1 zoom lens, M3 software and touch-screen PC comes in at less than $39,000 delivered and installed – making it the best value vision system available in Australia at the present time.  
"These systems are not only the best value vision systems available, they also offer ease of use whilst still maintaining high levels of accuracy, said Mr Eldridge.
Starrett's range of vision and optical products includes the HDV300 system – recently described by a Starrett executive as "like a comparator on steroids."
The HDV 300 combines the proven and tested features of the Starrett horizontal HB300 comparator stage with the added benefits of using a video camera and interchangeable telecentric lenses that now allows uses to import and measure features against DXF files and to do away for once and for all with cumbersome Mylars and overlays required in optical projectors of the past.
Customers can create their own profiles or digital overlays by combining measured or derived features in the software into "profile feature" to which tolerances can be added and then the profile is exported as a .DXF file for later importing as the new digital overlay for the checking of production components.
Launched in late 2012 in the US, the HDV300 system has been a run-away success with large numbers of systems sold to end-users across the US.
Starrett team Australia expects the same sort of take up of the technology to occur over here, particularly in the toolmaking and advanced manufacturing sectors where accuracy, speed of measurement and the use of digital data are key requirements in doing business.