STAND-ALONE PACKAGE IS EASY INTRO TO CONDITION MONITORING
02-12-2016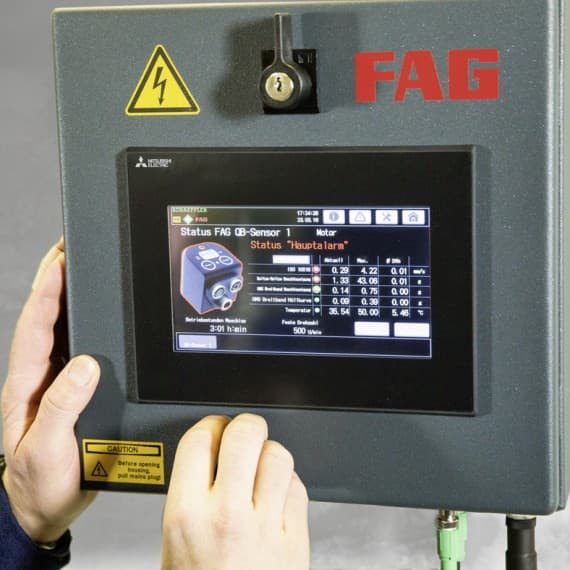 Schaeffler has made it easier for companies to adopt condition monitoring of critical machinery in their facilities with the release of a novel stand-alone solution. The FAG SmartQB is a ready-to-use condition-monitoring package that can be installed and operated by any in-house electrician with no specialist knowledge of vibration technology. Common installations include vibratory, grinding and rolling processes.
The system combines multiple FAG SmartQB sensor units (based on the existing FAG SmartCheck), an enclosed touch-panel controller, and a cable for power and data transmission. The system is delivered preconfigured to detect irregularities in electric motors, pumps, fans and their associated roller bearings.
The system is designed to identify five different types of faults: bearing damage, imbalance, friction/cavitation (for centrifugal pumps), temperature increases, and any general change in vibration patterns that cannot be clearly attributed to any of the other causes.
Any fault identified is notified using a plain text message on the 7in touch-screen display. As a result, the SmartQB system can be operated by general maintenance personnel with no specific knowledge of vibration technology. And the speedy automatic fault assessment enables users to start maintenance work quickly and order replacement parts where required.
Up to six FAG SmartQB sensors can be mounted on any housing and allocated to individual assemblies as required. Further sensors can be easily added after the initial installation. Under normal operation, the system displays status information, such as operating hours, fault frequency, maximum values, average values, trend curves, and the alarm status of each sensor. When a change in vibration is detected an alarm is generated. At this point the SmartQB display will instruct the maintenance personnel to send the measurement data to Schaeffler's technical support for a more in-depth analysis.
FAG SmartQB is ideal for use in the cement, paper and steel processing sectors, as well as in mechanical and plant engineering. The system is currently being validated in various customer projects.
Schaeffler Australia
02 8977 1000
www.schaeffler.com.au