STAINLESS-STEEL TANK SPECIALIST IS TOP FABRICATOR
15-11-2017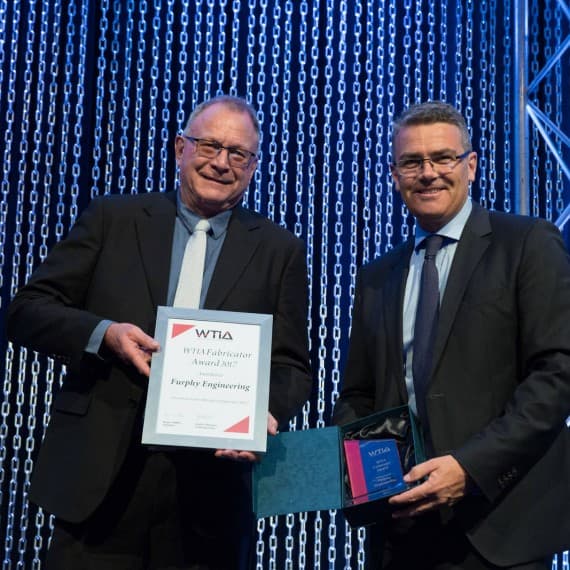 Adam Furphy accepts award from WTIA President, Roger Griffiths
The Welding Technology Institute of Australia has named Shepparton-based Furphy Engineering as its Fabricator of the Year for 2017. The award was decided based on a range of business metrics including: innovation, quality assurance, market success, community engagement, health and safety, and commitment to the training and development of employees.
The company has a 150-year history of manufacturing in Australia, and today combines in-house design and engineering expertise with state-of-the-art equipment and a three-tiered QA/QC department to produce high-quality stainless-steel tanks for a range of Australian industries.
Receiving the award, Furphy Engineering MD, Adam Furphy said: "Our company motto of "Good, Better, Best" truly represents both our philosophy of continuous improvement and our commitment to delivering stainless-steel tanks that have been designed and built to the highest possible standards.
"We expend a great deal of energy to ensure that this claim can be made so it is particularly pleasing to be acknowledged with this prestigious award from a tremendously important institution such as the WTIA."
Furphy Engineering
03 5832 1400
furphyengineering.com.au