SPOTLIGHT ON WORKPLACE HEALTH AT SAFETY IN ACTION SYDNEY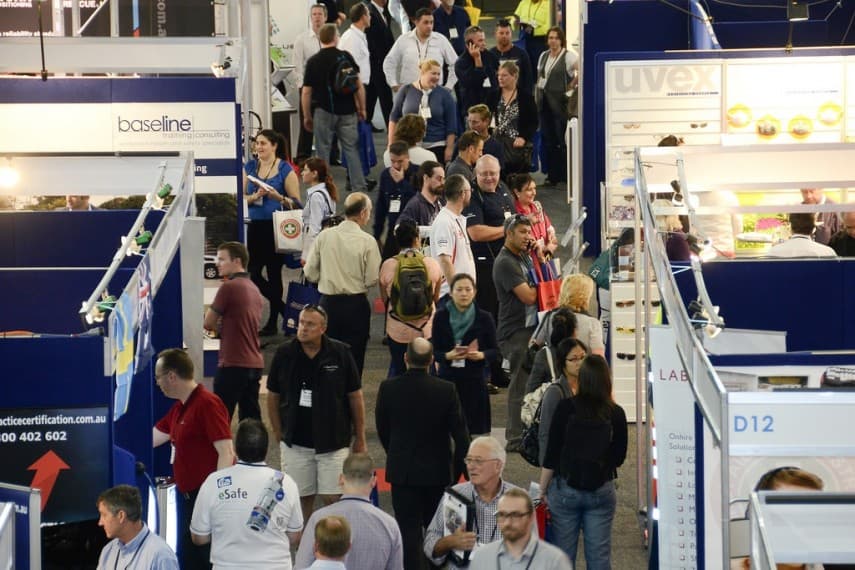 The importance of a healthy workplace was a major focus at Safety in Action Sydney last week. 
The 3-day safety event from September 2-4 attracted large crowds with visitors attending seminars keen to learn more about mental health in the workplace and the impact of drugs and alcohol on productivity. 
"This has been the strongest event by far," said Tony Francis, the Exhibition Director. "There has been a really good cross-section of industries and the telltale sign for us of what's important is the great number of people lining up for the seminars. People are clearly enthusiastic for education and content."
In the panel discussion titled "Happy Workers = Higher Productivity", Dorienne Spennato from AccessEAP emphasised the importance of a mentally healthy workplace due to the fact that a huge one in four Australians will experience an anxiety disorder at some point in their lifetime. The Mental Health Foundation Australia (MHFA) estimates anxiety and depression to be the cause of six million working days lost each year in Australia and 12 million days of reduced productivity. 
Sharon Leadbetter of the Mental Health Association of NSW followed Spennato, citing the example of Price Waterhouse Coopers. PwC Australia found that for every $1 invested in workplace mental health, there was a $2.30 return thanks to the massive increase in productivity. 
In his talk during the panel discussion on "Drugs, Drink and Work," Phillip Collins of the Australian Drug Foundation quoted the alarming statistic that $6.04billion of the total societal cost of alcohol misuse can be attributed to the workplace sector. This accounted for much more than other sectors including criminal justice, traffic accidents and the health system. Ian Jameson from Integrity Sampling stressed that no organisation is immune from drug and alcohol misuse and offered the implementation of a "Fit for Work" policy as an effective solution. 
While many visitors were engaging in topical discussions in the free seminars, others were testing out all kinds of new and exciting products and services on the showroom floor. 
Mr Francis highlighted the golden opportunity that Safety in Action offers its exhibitors to market their product. "We received lots of positive feedback about the amount of business that was done right on the show floor, which is what industry expos are all about," he said.  
Rugby League fans at Safety in Action Sydney got an extra treat when they spotted several of the Cronulla Sharks players at the Labour Health stand. Luke Lewis, Sam Tagataese, and brothers Andrew and David Fifita all came along to the expo to show their support for Labour Health, a major sponsor of the Cronulla Sharks.
At this year's show the Best Stand 18 sqm & Under was awarded to Millsom Materials Handling for their hoists and industrial lifting equipment.
The Best Stand 18 sqm & Over went to VisionSafe for their cutting-edge ear/eye face and head protection equipment.
And Evac+Chair International was awarded the prize for Best Stand by a New Exhibitor with their innovative range of evacuation chairs and accessories to help those with restricted mobility.
CleanScene, a trade expo focused on the cleaning, hygiene and safety industries, was again held in conjunction with the Safety in Action show.
More than 50 exhibitors including Tennant, Botanical Innovations, Rapidclean and Solaris Paper displayed the latest cleaning innovations. 
Safety in Action Brisbane will be held at Brisbane Exhibition & Convention Centre, from April 22-23, next year.