SPONSORSHIP PAYS QUICK DIVIDEND FOR TOP FUEL RACER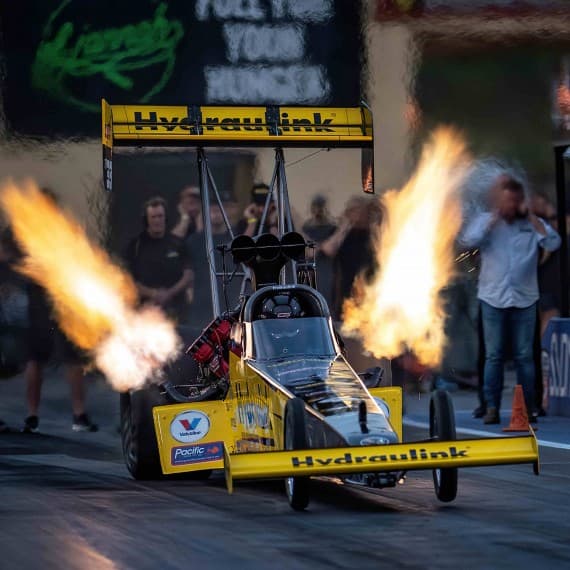 Photo: Half Light Photographic
Australia's top drag racer, Jim Read, has celebrated a new sponsorship deal from the Hydraulink by setting the fastest time ever at the Sydney Dragway during testing.
The multiple championship winner's top fuel racer, driven by son Phil Read, blasted down the quarter mile course in 3.802s in its first outing in the Hydraulink livery during the preseason event. The slick tyres used by the fastest car in competition events were then auctioned to raise money for the Rural Fire Service.
Jim Read remains an icon in Australian drag racing long after becoming the country's first driver to exceed 300mph (nearly 500km/h) at the end of the quarter mile. Now he is looking forward to an even greater 2020 after the partnership agreement with his team announced by Hydraulink National Franchise Manager Wayne Abbott.
"Jim Read is a legend in his sport – over 50 years he has won 17 National Championships, 16 Australian Championships and ten Winternationals, along with NSW Championships, Grand Finals, USA versus Australia and Australia versus New Zealand Match races," says Abbott.
"He has also been instrumental in broadening the appeal of the sport to include not only those focused on pure mechanical excellence, but also their families, partners and children. So his sporting ethos – which is carried forward by Jim Read Racing Team Manager and son Bruce Read – is highly compatible with that of the Hydraulink family of franchise owners operating through more than 400 service points throughout Australasia."
Hydraulink
1300 36 37 34
www.hydraulink.com.au