SPONSORING FUTURE ENGINEERS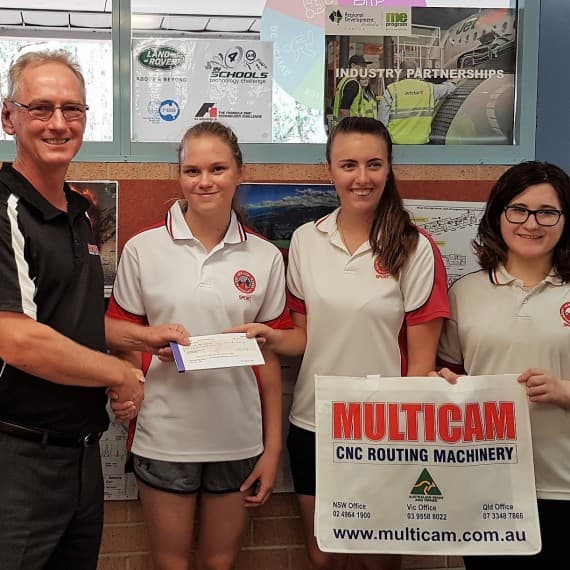 Stephen Heusz, Multicam and Impro Racing team members
Earlier this year, Multicam CNC Routing Systems provided sponsorship to the Impro Racing team from Mount View High School, West Cessnock, NSW to assist them in taking part in the F1 in Schools STEM Challenge. The team are the only all-girl team in the competition and have proven themselves to be talented and dedicated in their bid to become victorious nationally.
Multicam has a long association with schools, colleges, universities and trade training facilities throughout Australia and it is especially pleasing to see these talented young women taking on science, technology, engineering and mathematics (STEM) subjects, which are often male-dominated. During the sponsorship presentation, Stephen Heusz, from Multicam's head office in Newcastle, was given an extensive tour of the team's facilities and an in-depth explanation of the teams' efforts and goals.
The F1 in Schools Challenge is the world's largest secondary school STEM competition, in which teams design, manufacture and race miniature Formula 1 cars over a fixed distance. The cars are conceived and designed using industry-standard CAD/CAM software and produced using CNC machinery.
Once designed and software tested to satisfaction, the students then 3D machine the car body, 3D print some of the aerodynamic structures, assemble, paint and prove their vehicles in wind and smoke tunnels and on test tracks. The process gives the students a feel for real-world manufacturing processes as well as an understanding of what is involved in completing a team-based mission.
As well as physically producing their cars, teams must also create a group identity just as F1 racing teams do, including logo, branding, marketing, and set up a trade booth showcasing the team and its vehicle. At all stages, individual portfolios are maintained by the team members, the quality of which goes towards accruing competition points. It's not only about the race.
As a result of their other recent successes, the team have been selected to represent NSW at the national finals in Melbourne in March. If they are victorious, the next step will be to compete at the international finals later this year. Australia has a tradition of success on the global stage, with the Horizon team from Brighton Secondary School, Adelaide being victorious in 2018.
"The excitement amongst the girls for this competition is evident in every aspect of what they are doing to achieve success at the finals," says Heusz. "In fact, the whole school is focused on providing every opportunity for success, with an emphasis on the learning process and what skills the team members will gain in participating and take in to their future lives.
"The professionalism of team IMPRO is something of which they should be very proud. By drawing on the guidance of their F1 in Schools Coordinator and being mentored by members of previous teams, the team realises that success can be achieved by recognising the value of utilising any resource at their disposal."
Multicam CMC Routing Machinery
02 4964 1900
multicam.com.au