SPLIT THE DIFFERENCE FOR SAFE TIME-SAVING SPHERICAL ROLLER BEARINGS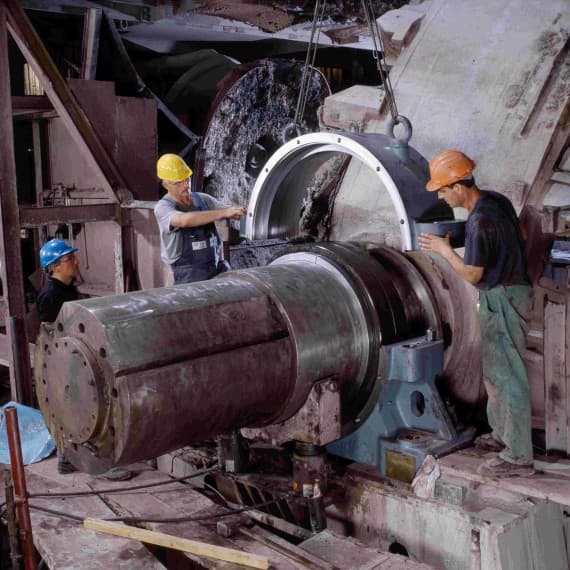 Spherical roller bearings (SRBs) are increasingly used throughout Australia and New Zealand in applications involving machinery handling heavy loads at moderate speeds. SRBs are ideally suited to mining and energy, bulk materials handling and heavy industrial processing applications.
Their robust design incorporates barrel-shaped rollers between the inner ring, which has two raceways, and the outer ring, which has one spherical raceway.
A benefit of this low-maintenance design is that the bearings are self-aligning because the centre of curvature of the outer ring raceway surface coincides with the bearing axis.
Schaeffler has long been a leader in SRB technologies through its worldwide operations employing 90,000 people, including more than 6000 at 18 research and development centres dedicated to high-performance, low-maintenance bearing technology.
Now the installation and maintenance benefits of this global experience in the design and use of SRB technology is being extended further through time-saving split spherical roller bearing technologies purpose-engineered to minimise downtime of machinery vital to industries seeking to minimise production shutdowns and process interruptions.
These latest split SRB designs also increase safety by reducing the amount of heavy disassembly and assembly tasks typical of maintenance on machinery such as conveying equipment, materials processing plant, ventilation plant, rolling and milling equipment, energy and water utility machinery and primary processing plant, including timber, paper and agribusiness machinery. (Click here for a video explaining how split SRBs work).
According to Martin Grosvenor, Schaeffler Australia Manager, Industrial Projects and Services: "In many applications, spherical roller bearings are mounted on the shaft in such a complex way that it is also necessary to remove all the adjacent components in order for it to be replaced. This leads to long downtimes and complex additional tasks. When the split bearing version is used, most of these process steps are no longer required and the associated additional costs no longer arise."
FAG split spherical roller bearings are designed to radically simplify the process of bearing inspection and replacement, reducing maintenance downtime by 50 per cent or more – while also reducing costs by eliminating complicated bearing replacement procedures in machinery and plant.
Split spherical roller bearings are particularly applicable where replacement of unsplit spherical roller bearings would require costly additional work, involving the removal of gears or couplings, the dismounting of drives or the dismantling of shaft power trains.
By removing many of the steps and complications involved with solid bearing replacement, the easily installed split roller bearings increase uptime and profitability. Split spherical roller bearings – which are especially useful on shafts supported at several points and locations that are difficult to access – can be applied to machinery such as bucket wheel excavators and reclaimers, winches and sheaves, worm conveyors, bucket conveyors, belt conveyors, mixing and stirring plant, mills and crushers, sintering plant, fans and ventilators, dust extraction plant and drive and transmission shafts.
For further time-saving efficiencies, split spherical roller bearings can be fitted to split plummer block housings produced by Schaeffler, without additional machining of the housings. Split spherical roller bearings can also generally be fitted instead of unsplit spherical roller bearings with adapter sleeves. (The precondition for replacement is that the outside diameter, outer ring width and diameter of the shaft seat are identical).
"Mounting downtime can be cut by about 50 per cent using Split SRBs compared with using solid bearings," says Martin Grosvenor. "Maintenance downtime can be cut even further, to about 33 per cent compared with solid bearings, by further cutting the number of steps involved from 10 to four, eliminating procedures such as disconnection of drive components, removal of shaft assemblies and removal of drive components from the shaft."
In addition to significantly reduced fitting costs for maintenances tasks, split SRBs can produce cost savings in new designs too, because plant designs can be simplified, and assembly work reduced.
Ongoing reliability of premium quality split spherical roller bearings is assured by the design, production and service standards of the global Schaeffler group, which provides backing and resources to complement the extensive local experience and expertise in Australia and New Zealand of Schaeffler Australia and its long-established distributor network in both countries.
Schaeffler bearings are further backed in Australia and New Zealand by product selection and packaging solutions, installation expertise, online condition monitoring, and lubrication technology for optimal performance.
Schaeffler Australia
02 8977 1000
www.schaeffler.com.au