Spitwater comes clean with launch of new diesel models
15-02-2012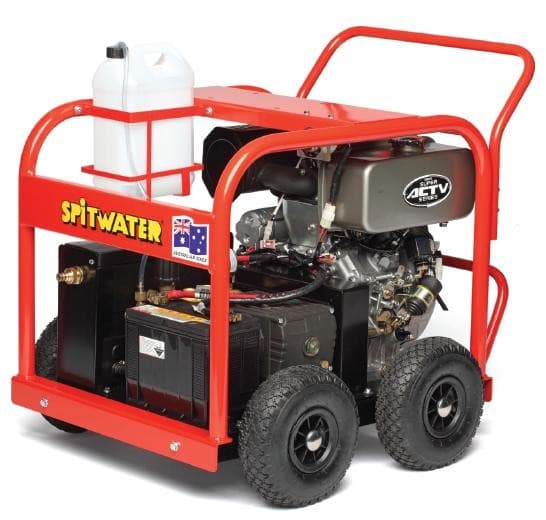 Spitwater Australia, Australia's largest manufacturer of pressure cleaners, has released a range of new diesel-powered pressure cleaners.

The new models, powered by highly reliable Kubota diesel engines, offer heavy-duty cold and hot water.

They are ideal for big industrial cleaning jobs requiring diesel-powered machinery.

Designed and built at Spitwater's Albury manufacturing plant, the new range of pressure cleaners is truly a gem.

Users get all of the benefits expected of large, powerful high-pressure water cleaners as well as the additional smart and exclusive Spitwater features.

The range of coldwater machines available offer water flows from 12 to 30 L/min and pressures from 2250 to 5000 psi. The Model HP15210DE offers 15 L/min water flow at 3150 psi pressure – the largest in its class.

The range of hot and cold water machines offers two models with water flows 15 and 21 L/min and pressure 3000 psi. The Model SW21200DE is a robust unit that is designed especially for application in mines.

The heart of all Spitwater machines is an industrial brass head Interpump pump with three ceramic pistons – ideal for our water conditions.

On the new model HP15210DE, the pump is coupled to a 9.5 hp, Kubota Model OC95, diesel engine using the Spitwater Oz-Tuff belt system.

This simple, yet very efficient, power transmission system uses two toothed pulleys, one larger than the other, for the correct drive ratio. With the pulleys fitted to the engine crankshaft on one side and the pump crankshaft on the other, keyways to both pulleys are locked down with grub screws. This ensures that both pulleys become an integral part of their shafts and are not able to move and cause damage to the shaft or keyway. Connecting the two pulleys is the proven, toothed, flexible, rubber/Kevlar, 30mm wide, 200mm diameter belt.

The belt connects the two pulleys directly and ensures smooth drive transmission from engine to pump as well as demanding less horse-power than a conventional gearbox. The Spitwater Oz-Tuff belt system is now fitted to all diesel and petrol engine powered models produced by Spitwater.

All of the new Diesel powered range machines are manufactured in a locally made, zinc-annealed and powder-coated chassis with the Spitwater trademark red, newly designed roll-over frames and covers.

All models are fitted with a large water cooling tank, a Spitwater feature. This tank acts like a radiator in a car and is designed to allow full, 100 per cent water by-pass in trigger-closed mode.

The system offers real protection from temperature fluctuations in the pump.

Optional accessories include:
Longer hose lengths at 15m, 20m, 30m or 40m
 
Hose reels that mount conveniently on the machine for easier hose storage
 
Turbo lance which will increase washing effect of each machine by boosting turbo pressure and
 
Foam gun for easier and more efficient cleaning.
The new Spitwater Diesel powered range is absolutely ideal for many industrial applications where petrol is not a fuel of choice, including mining applications, earthmoving equipment, trucking operators, large workshops and even on-farm use.

Spitwater
Ph: 1300 774 892 837 (SPITWATER)
www.spitwater.com.au