SPIN WINDOW PROVIDES A CLEAR AND REMOTE VIEW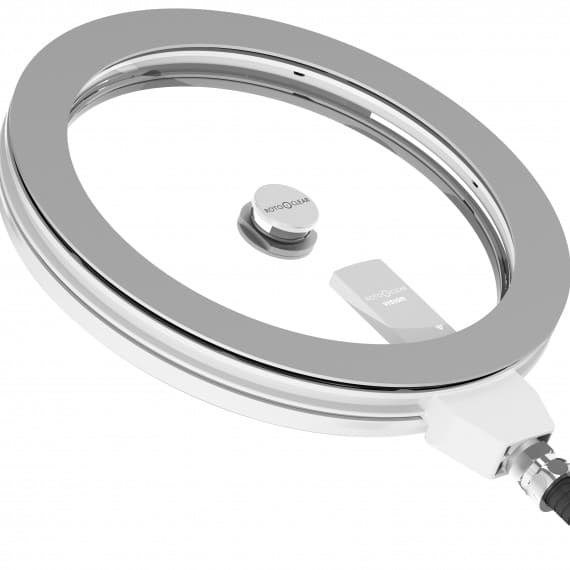 Rotoclear has been a leader in spin windows for many years, continually developing its models to provide maximum cleaning effectiveness and simple installation.
Its latest model, the S3, features the world's lowest installation height of just 34mm, allowing simpler installation than previous models. This model is always mounted on the inside of the inspection window, maintaining safety. There are options for installation of different machining centre windows, with bolt-on or adhesive-mounted versions available.
As with previous models, the window works by a rotating disc dispersing coolants and cuttings, whether water-soluble or water-insoluble. This keeps the inspection window clean, ensuring continuous control of workflow.
Maximum field of view is achieved by a revolutionary and patented drive concept, while high torque guarantees a clear view of the production process even under the toughest conditions.
The S3 dramatically reduces service and cleaning times, and the rotating glass disc as a wear part can be changed in less than a minute without dismantling the entire device. Maximum operational reliability is assured by use of air bleed and low power consumption by use of linear drive technology,
The S3 is suitable for all kinds of metal cutting and machining applications. Overload protection, emergency shut-off and soft restart are executed automatically and ensure constant operation.
But Rotoclear has once again raised the bar with its latest accessory for the S3. Rotoclear Vision features a Wi-Fi camera for wireless monitoring of the working space. Integrated into Rotoclear, the camera always has a clear view into the machine, just like the operator. The camera's head is adjustable, so it can be focused on the important details of the process.
The camera can connect to any Wi-Fi enabled device. The operator can either log in directly to the camera's access point or easily integrate it into the corporate network. The camera is available as a complete package, and is attached to the integrated connector of Rotoclear and powered by it.
"Rotoclear has always led the way in spin window technology and Rotoclear Vision is proof of the company's innovation and forward thinking," says Dimac Managing Director Paul Fowler. "The ability to connect the unit to any Wi-Fi enabled device will assist CNC machine tool operators to maximise productivity and reduce the workload in their workplace."
Dimac Tooling
03 9771 6121
dimac.com.au