Published 13-08-2020
| Article appears in August 2020 Issue
SPEED GATES TO SAFEGUARD INDUSTRIAL OPERATIONS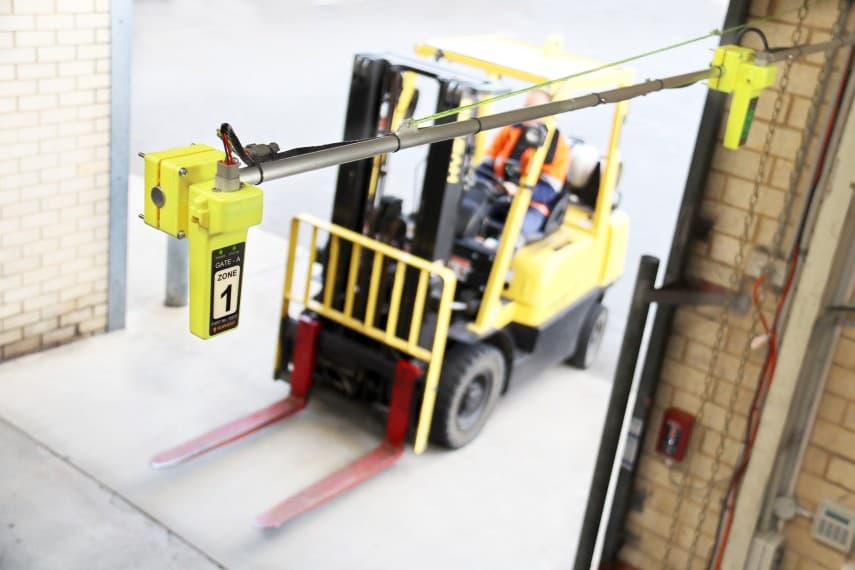 Safe machine fleet practices across logistics and warehousing sites are set to be revolutionised thanks to the newly released Muirhead Speed Gates from smart technology firm RCT.
Speed Gates ensure all industrial vehicles, such as forklifts and reach trucks, are travelling at an appropriate speed for its surroundings.
The systems are easily deployed at entrances, exits and other designated points within warehouses and other materials handling facilities and caps maximum speeds on any piece of industrial equipment passing through the portal.
Work sites may be set up to cover up to four safe speeds per site, ensuring the materials handling equipment can only travel at designated speeds through specific areas such as yards, racking aisles, calm zones (pedestrian areas) or under awnings.
The Speed Gate system consists of a gate that is to be located above entrances and exits which communicate with a machine location tag mounted on or close to the roof or Falling Object Protective Structure (FOPS) of a forklift.
The machine location tag then communicates with a Muirhead Speed Limiter to manage the speed of the forklift depending on the specific location it is traversing through onsite. Additionally, depending on machine type, Speed Gates may be able to interface directly with OEM speed limiting features.
RCT product manager Mick Tanner says the system effortlessly enables safer materials handling operations.
"Speed Gates will ensure machine operators are fully compliant with site-specific speed limits and keeping in line with government safety regulations," he says.
"Improved speed control within your warehouse will reduce the chance of accidents and protect machine operators and other workers."
Tanner characterises the simple-to-install system as "set and forget", as it requires no ongoing maintenance.
"The system can be applied to any type of materials handling equipment regardless of manufacturer so is ideal for both large and small sites that operate mixed fleets."
RCT has so far received positive feedback from fleet managers at sites that have been using Speed Gates.
Remote Control Technologies
08 9353 6577
www.rct-global.com