Specsavers keeps an eye on workplace safety
31-08-2010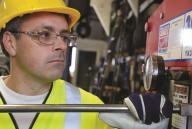 Top protection … Specsavers safety eyewear
Inadequate or inappropriate eye protection and failure to observe occupational health and safety practices are the major causes of workplace eye injuries.
Taking steps to look after your employee's eye health is just another way to ensure you are an employer of choice.
By using AS/NZS 1337.6:2007 Certified Prescription Safety Eyewear in the workplace you can ensure that your legal requirements are met simply, affordably and easily.
Specsavers is the fastest growing group of optometrists in Australia.
The company provides professional eye care and affordable eyewear across the country, making professional eye care accessible for all. 
The welfare of an employees' eyesight is the responsibility of employers.
Caring for the health of your employees' eyesight is crucial for their optimal performance and comfort at work.
By visiting any of Specsavers 270+ stores you can find the perfect cost effective solution for a safer workplace.
Specsavers
Ph: 02 9410 0622