| Article appears in November 2019 Issue
SPECIALIST NZ ADHESIVES COME TO THE AUSTRALIAN MARKET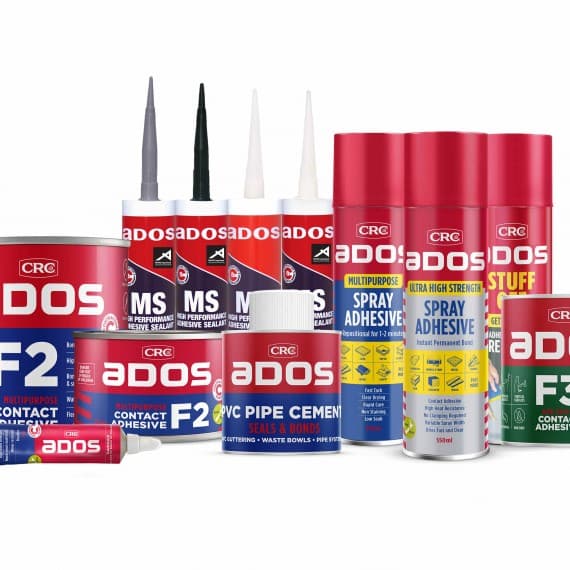 CRC Industries Australia has added seven leading Ados adhesives to its product portfolio. The Ados brand was founded in New Zealand 60 years ago and purchased by CRC in 1996.
According to CRC Industries Australia MD Murray Walbran: "As a leader in specialty adhesives for the maintenance and repair professional, CRC Industries Australia is very excited to be able to introduce these well-respected adhesive products to the Australian market.
"Thanks to the addition of these new products, CRC Industries Australia's adhesives range now includes contact adhesives and pipe cement for almost every possible application."
Highlights of the new range include CRC F2, a high-performance general-purpose contact adhesive that is water resistant and flexible with a high bond strength that makes it ideal for a wide range of uses. CRC F2 is is available in 75mL tubes or 125mL, 250mL and 1L tins.
CRC F3 is a thixotropic high-strength contact adhesive formulated to be non-spill and non-drip, providing greater control of application and better coverage. Its gel form makes it ideal for vertical and ceiling applications and for bonding onto porous surfaces. CRC F3 comes in a 500mL tin.
CRC PVC pipe cement is a general-purpose clear PVC adhesive specially formulated for sealing and bonding joints in PVC guttering, conduit, waste bowls, standard low pressure pipe systems and more. It comes in 250 and 500mL tins.
CRC multipurpose spray adhesive bonds most materials quickly and easily, giving a long lasting bond. It is formulated to give a fast tack off, low soak spray and dries clear. It comes as a 210 or 575mL aerosol.
CRC ultra-high-strength aerosol adhesive gives an immediate and permanent bond on a wide variety of surfaces. It is formulated to give low soak, cure fast, dry clear and be non-staining, and comes as a 550mL aerosol with a variable nozzle that allows controlled, accurate spraying with a variable spray width.
CRC Stuff Off is a powerful adhesive remover designed to soften or dissolve most adhesives and paints as well as uncured laminating resins and uncured sealants. It also removes paint spills, graffiti, inks and grease and is ideal for use on metal, wood, fabric, carpet, stone, brick and steel surfaces. It is available as a 550mL aerosol.
Finally, CRC MS Sealant is a high-performance single-component neutral curing adhesive sealant based on MS polymers. It has excellent primerless adhesion to all materials commonly used in the demanding building, construction and engineering industries.
It waterproofs, bonds and seals for a wide variety of applications, and the cured product can be painted with most solvent and water based paints and varnishes. It comes in 400g cartridges for white, black and grey and a 300g cartridge for clear.
CRC Industries Australia
1800 224 227
www.crcindustries.com.au