SPECIAL INTEREST GROUP FOCUSES ON INTERNATIONAL SUPPLY CHAIN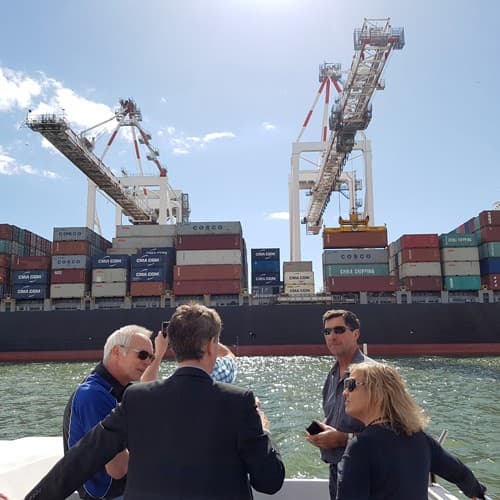 Delegates from apicsAU and the ACIT at a recent joint visit to Melbourne Ports
The Australian Chamber of International Trade (ACIT) is joining apicsAU to share its inbound and outbound trade expertise and connections with the Australasian supply chain community.
The ACIT is a not-for-profit organisation that provides training and support to Australian importers and exporters. It maintains close connections with Australian and overseas government agencies, industry associations, foreign embassies, consulates and trade promotion agencies. It will form the International Trade Special Interest Group within apicsAU.
According to apicsAU CEO Dr Pieter Nagel, the alliance further strengthens apicsAU's move towards building a comprehensive supply chain community representing all sectors of the supply chain industry.
"We are strengthening our community by expanding in Special Interest Groups so that we can better serve the broader supply chain industry," he said.
The announcement follows several other such amalgamations for apicsAU. The Alliance for Supply Chain Innovation formed the apicsAU Leadership & Innovation Special Interest Group; the Logistics Association of Australia formed the apicsAU Transport & Logistics Special Interest Group; the Lean Network Australia formed the apicsAU Continuous Improvement Special Interest Group; and collaboration with universities formed the Future Leaders Special Interest Group.
According to ACIT Chairman Lawrence Christoffelsz: "Both the Australian Chamber of International Trade and apicsAU have been diligently serving their respective industries for 50-plus years, delivering comprehensive professional development offerings to the Australian supply chain community. We are excited to join such a professional and important player in the industry and our combined support programmes provide an ideal fit for companies wanting to grow their business further on a global stage."
apicsAU
www.apicsau.org.au