SPECIAL APPLICATION GRINDING MADE EASY WITH POLIFAN CURVE
25-09-2015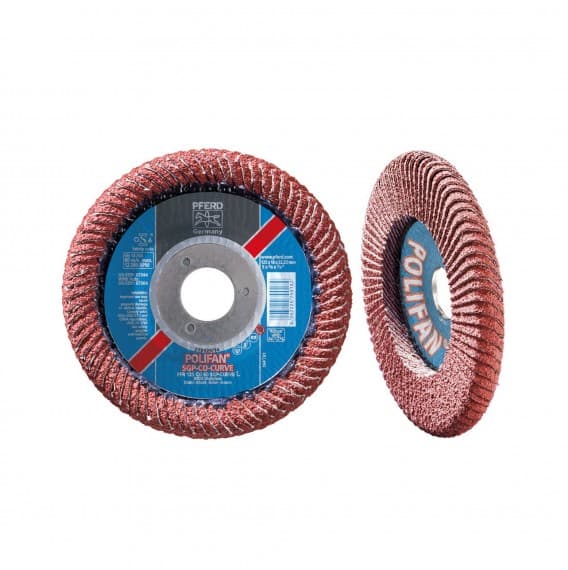 Grinding into corners has always been time consuming and usually difficult.
A good example is weld seam dressing for Tee butt welds or tee butt corner welds, which relates to the Australian Standard AS/NZS 1554.5.
Now, working with fillet welds has never been easier with the revolutionary PFERD Polifan Curve grinding disc.
Imagine a flap-like grinding disc with a completely new design of flap. This design is like no other, unlike its predecessors, which only have abrasive flaps on the face, the Polifan Curve has the abrasive material wrapped around the outer edge from the face all the way to the other side of the disc.
This feature creates a perfect radius on the outer edge, which makes it the ultimate product for producing perfectly blended fillet welds in both structural and decorative applications.
These discs are available in two thicknesses, to suit up to 5mm and up to 8mm fillet welds, both producing outstanding results. When working with these discs much less effort is required, and vibration generated, than using burrs to complete the same task.
Further, you can save much time and money when using the Polifan Curve on a given fillet weld due to the speed at which work can be completed.
No longer do you have to use time consuming multiple step processes that only produced mediocre results. I have not seen anything that yet compares and you need to see this product in action.
Blending fillet welds has changed, and the PFERD Polifan Curve is the answer.
PFERD is known globally for manufacturing quality abrasives that suit a wide range of applications from cutting to grinding, milling, filing, brushing, polishing, burrs and much more.  
Established in Germany, PFERD is a family owned organisation with over 200 years of experience.
PFERD Australia offers clients national warehousing, sales, training and service coverage throughout Australia.
Their diverse range suits industry sectors including automotive, steel work/metal work, mining, aerospace, engineering, shipyards, foundries, steel mills and more.
Contact PFERD for more information or to request a sample.
PFERD
Ph: 1300 073 373 (0 PFERD)