Sparkling new forklift from MLA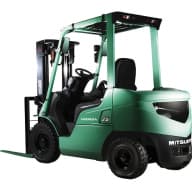 The new GRENDiA forklift from MLA Holdings not only reduces the need to replace components, it also maximises fuel efficiency and minimises emissions.
In short, GRENDiA benefits the planet as well as the operator and the employer.
This makes GRENDiA a true "Green Diamond."
The ultra reliable GRENDiA offers forklift users a choice of rigorously tested diesel/dual fuel engines that promise non-stop productivity.
GRENDiA also offers an optional electronically controlled gasoline engine, which has achieved remarkable environmental controls. It complies with all 2007 Emission standards, while still maintaining high performance and reliability levels.
As well as its environmental efficiency, the Mitsubishi GRENDiA takes workplace safety seriously.
It is designed and equipped with features like Integrated Presence System (IPS), Neutral Safety, high-mounted rear combi lamp, and clear all-round visibility – all of which are within the basic price of the truck.
Much emphasis has been placed on driver comfort. Operators will particularly enjoy the fully floating powertrain with Mitsubishi Powershift transmission, which delivers impressive power and gradeability with minimum noise and vibration.  
GRENDIA is an economical forklift and offers low overall running cost – and they are built to last. Everything from the frame, body and mast to the smallest bearing is designed to resist damage. Throughout the truck, Mitsubishi designers have looked for ways to avoid wear and lower the cost of maintaining systems.
Using maintenance-free gears instead of belts in the powertrain is just one of many successful features.
The Mitsubishi GRENDiA comes in a range of 1ton-3.5 ton machines.