Space selling fast for AUSPACK PLUS 2013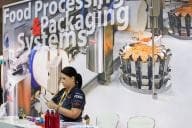 More than 1900sqm of space has been sold for next year's AUSPACK PLUS exhibition since its launch less than three months ago.
"The level of industry support the 2013 exhibition is receiving 15 months in advance is a true indication of the strong brand, says event manager Luke Kasprzak
"AUSPACK PLUS is the largest biennial packaging and processing machinery and materials exhibition in Australia and is a recognised vehicle to showcase what's new  in manufacturing and packaging technology," Mr Kasprzak says.
"We have already had a significant sign-up for stands from companies that include HMPS, JL Lennard, ABB Australia, Accuweigh, insignia, ERC Packaging, Heat & Control, Fibre King, KHS Pacific, Kiel Industries, Linco Food Systems, Propac Industrial, Nordson Australia, Walls Machinery, Matthews Intelligent Solutions, TNA Australia, Fallsdell Machinery, Contract Packaging Systems and RML Engineering.
AUSPACK PLUS 2013 will be held at the Sydney Showground, Sydney Olympic Park from May 7-10 next year.
AUSPACK PLUS is owned and presented by the Australian Packaging and Processing Machinery Association (APPMA), Australia's only national packaging and processing machinery organisation.
To receive a prospectus on exhibiting at AUSPACK PLUS 2013, contact Luke Kasprzak, Event Manager on Ph: 02 9556 7972 or email LKasprzak@etf.com.au