SPACE SAVING STORAGE SOLUTIONS FROM KOBOT AT NMW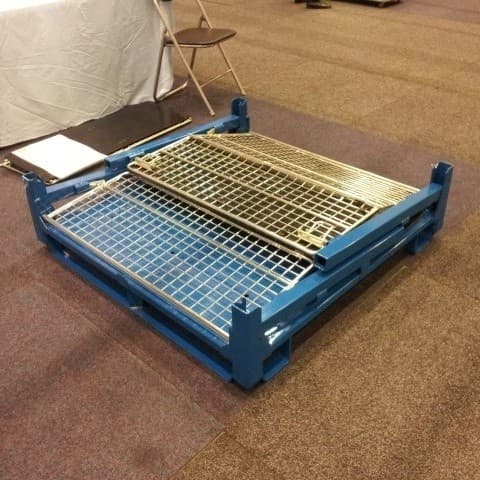 Kobot Systems will have a range of its latest innovative products on display at NMW in Melbourne in May.
This includes the unique Amada Miyachi hand held fibre laser welder, Smartscope Vision Measuring System, Collapsible Stillages and a new water proofing methodology from Europlasma.
Also on display on Stand 5710 will be a range of fastening solutions from Kilews, HIOS.
There are many pallet type storage methodologies now being used in industry – but few offer the many advantages of the collapsible stillage.
These are metal heavy duty storage stillages that can be folded and collapsed down when empty and can be stacked multiple high to be returned to depot or factory, thus saving space and costs.
There are many configurations and sizes available.
They are widely used in the automotive industry, where component suppliers supply parts to the main auto-maker.
The stillages can be stacked on top of each other, up to five high without pallet racking, when fully loaded.
Collapsible stillages from Kobot Systems are designed specifically for Australian conditions.
They feature a 1165x1165mm base, which allows you to easily load trucks and containers with two stillages abreast.
The Kobot stillage is designed so that all four sides can be folded in half for easy access and loading.
And two sides can be removed to allow walk-in access for loading and unloading.
The mesh used in the Kobot design is a heavier mesh than the market standard, to withstand tough environments.
There is also an optional polypropylene (car bumper material, 2.5mm thick) lining attached to the mesh to prevent damage to sensitive components.
Other benefits include improved visibility – goods store are visible through the mesh.
Also, there is no strapping or shrink-wrapping of goods to prevent them from falling off pallet racking.
This also prevents forklifts losing loads.
Kobot stillages are available in various sizes for a broad variety of applications.
NMW runs from May 26-29 at the Melbourne Convention and Exhibition Centre.
Kobot Systems
Ph: 08 9307 8178