Space saving solutions from Kobot
31-08-2010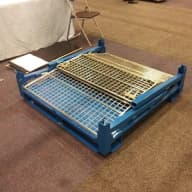 Kobot Systems have unique storage solutions for your warehousing and logistics needs.
The company offers heavy duty metal stillages that are collapsible and foldable to maximise space.
They are ideal for companies involved in third party logistics (3PL).
This includes picking goods from different customer suppliers, sending to a depot for sorting and re-shipping to end-users.
Traditionally, goods are placed on a pallet and the goods are shrink-wrapped to protect them from falling off.
On arrival, the shrink-wrapping is removed and the goods are transferred to another pallet and shrink-wrapped again.
End-users must then remove the shrink-wrap and dispose of the empty pallet. This is very time consuming and is a waste of time and materials. It is also bad for the environment as it generates much plastic waste.
Kobot's collapsible and foldable stillages, available in a wide range of different sizes, are the ideal solution.
The standard 1165 x1165mm base, designed for Australian conditions, allows you to easily load trucks and containers with two stillages abreast.
All four sides can be folded in half for easy access and loading, and two sides removable to allow walk in access for loading and unloading.
Also, a tall stillage is available for the storage of tall items, sharing the same stacking footprint of 1165mm x 1165mm.
Stillages can be stacked up to five high without pallet racking, when fully loaded.
Goods are visible through the mesh and there is no strapping or shrink wrapping required.