Published 23-06-2020
| Article appears in June 2020 Issue
SPACE GRADE TECH MONITORS MACHINE CONDITION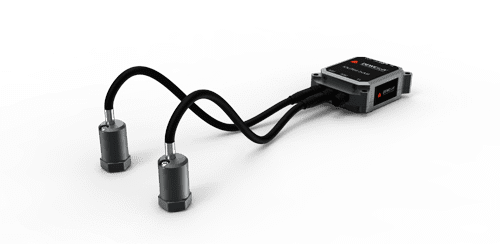 Available from Metromatics, Dewesoft now offers machine condition-based monitoring that features space-grade measurement technology, plug-and-play hardware and powerful software.
Machine condition monitoring is the process of monitoring condition in machinery while in operation in order to identify significant changes indicative of developing faults or malfunctions.
It's a cost-effective solution that enables facility owners to permanently monitor critical equipment with high ROI, which ultimately reduces production downtime, lowers maintenance and repair costs, and increases company profitability.
Ideal for any kind of rotating machinery including electric motors, gearboxes and pumps, Dewesoft's machine condition monitoring and predictive maintenance solution is accurate, extremely reliable, easy to use and cost effective.
Permanent condition-based monitoring applications can now experience distributed measurements – with a distance of up to 100m node to node – with a virtually limitless number of synchronised devices connected through a single cable and EtherCAT hardware architecture.
Dewesoft's Machine Condition Monitoring software features a web-based overview of the machinery state, which is indispensable for quick decision making. Historical data can be permanently stored in a database on a local or cloud server, and can be used for in-depth analysis and root cause identification.
In-depth machine condition analysis features include FFT-analyser, time-domain analysis, orbit plot, order tracking, waterfall diagram, trend statistics, enveloping and bearing fault detection.
Data gathered can then be integrated into any third party control system using the OPC UA protocol. The web browser application also allows users to access data from local computers, mobile devices, control systems or even remotely.
Dewesoft's DAQ systems offer virtually unlimited input channel configurations, while the DAQ software can perform machine condition monitoring analysis on any or all of them simultaneously.
EtherCAT technology allows the distribution of data under any condition with a single cable, which can span up to 100m between DAQ nodes or virtually unlimited using EtherCAT to fibre optic converters.
The latest Dewesoft machine condition monitoring hardware to hit the market is the IOLITEd-2xASI, which features two analogue sensor interface channels and one tacho specifically designed to work with Dewesoft ASI-1xVIB-50g, a 10kHz vibration and temperature sensor.
Metromatics
07 3868 4255
www.metromatics.com.au