SOUTH AUSTRALIA IS READY FOR DEFENCE INDUSTRY BOOM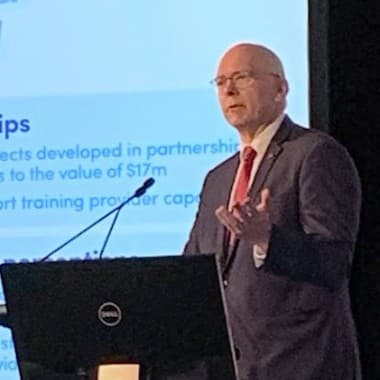 South Australia boasts a highly skilled and educated workforce, a renewed focus on entrepreneurship and innovation, and multi-billion-dollar defence industry contracts.
The state's world-class research institutions and universities, an investment in skills and the development of entrepreneurial education in high schools are giving young people the tools they need for the jobs of the future.
Under the Growth State plan, the Marshall Government is working with industry to identify areas of growth and unlock and accelerate business expansion and job creation.
Nine priority sectors have been identified as focus areas because of their strong potential to meet increasing interstate and global demand, attract investors and leverage comparative advantages: tourism, international education, defence industry, food, wine and agribusiness, high-tech, health and medical industries, energy and mining, space industry and creative industries. 
South Australia's size and agility means we can respond quickly to economic and social changes and grasp new opportunities.
We have leading capabilities in cyber security, underpinning defence intelligence, space and electronic warfare.
South Australia's naval shipbuilding programmes and other major projects are creating enormous technological advances and business and employment opportunities that will have an impact for decades to come.
Recently, the Innovative Manufacturing Cooperative Research Centre (IMCRC) invested $1.45 million of Government funding, matched by industry investment, in an Industry 4.0 research collaboration at the Tonsley Innovation District in Adelaide's south. Worth $2.9 million in research effort, this CRC project will develop and pilot cutting-edge manufacturing technologies for the Hunter class frigates for the Royal Australian Navy, to be built at the Osborne shipyard. 
In partnership with Flinders University, BAE Systems Australia's shipbuilding business ASC Shipbuilding and local businesses, IMCRC will drive digital transformation through advanced robotics, assistive manufacturing and readiness for Industry 4.0 – both inside the shipyard and more widely across the Australian supply chain.
To continue to capitalise on these opportunities, unlock our full potential and stay ahead of the skills race, it is vital that South Australia has the right people skilled up and ready to step into these career opportunities.
We are committed to equipping South Australians with the right skills and qualifications to meet industry demands.
We're designing and implementing secondary and vocational training that is modular, agile and responsive to technology.
In schools, we're providing young South Australians with high-level trade, STEM and entrepreneurial skills to prepare them for careers in advanced manufacturing and the defence industry.
Through Skilling South Australia, a $200 million partnership with the Australian Government, we're focusing on increasing apprenticeships to make sure we're supplying the skills required by industries. 
We're doing this by prioritising funding for apprentices and trainees, by introducing flexible apprenticeship pathways for school students, and by supporting group training organisations to enter new industries, including defence industries and the supply chain.
And we're partnering with industry on innovative projects that increase apprenticeship and traineeship opportunities, such as the Australian Industry Group's Higher Apprenticeships Programme, which combines vocational and higher education, with a focus on emerging technologies such as robotic systems, cloud-based data and computer aided design tools alongside traditional mechanical engineering trade units.
And there are other projects that will advance the skills we'll need in our advanced manufacturing and defence industries in the future, including a new, tailor-made cybersecurity traineeship.
Along with the pipeline of defence industries projects and jobs, developments like Lot Fourteen, the home of the Australian Space Agency and SmartSat CRC, South Australia is fast becoming a renowned leader in future industries and advanced manufacturing.
The Hon David Pisoni MP is Minister for Innovation and Skills in the Government of South Australia.