SOUNDERS AND BEACONS FOR HARSH ENVIRONMENTS
31-08-2010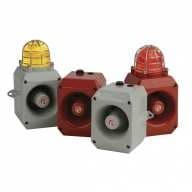 For use in harsh environments where high temperatures, shock and vibration or high UV levels are anticipated, E2S has introduced the new D range of alarm sounders and combined sounder/beacon warning signals. 
Using the electronics of its well established A Series, the D range is housed in a robust, corrosion resistant LM6 aluminium alloy enclosure, giving greater mechanical, temperature and UV protection than an equivalent plastic bodied device. 
The D105 is rated at 112dB @ 1m and the D112 at 117dB @ 1m; both types are also available combined with a Xenon strobe or LED beacon to generate both an audible and visual alarm from a single unit.
Testing has proven that a metal housing offers far greater protection at elevated temperatures than a plastic enclosure and is especially suited to outdoor applications such as mining conveyors where high ambient temperatures and sustained vibration can be experienced.
Both units offer a choice of 45 different alarm tones, and with the option of activating a second and third tone via additional control cables, they are a cost effective sophisticated signalling solution that offers the versatility of multiple tones from a single unit at a lower cost. 
Available from Mechtric, the devices can operate from 12, 24 and 48V DC as well as 115 and 230V AC. 
A UL approved version is also available.
With more than 40 years' experience, Mechtric offers a comprehensive range of sounders, beacons, loudspeakers, voice alarms and wide area signalling for the oil and gas, hazardous area, industrial and marine markets.
Mechtric
1800 252 995