SOS Components: your saviour for all 3D projects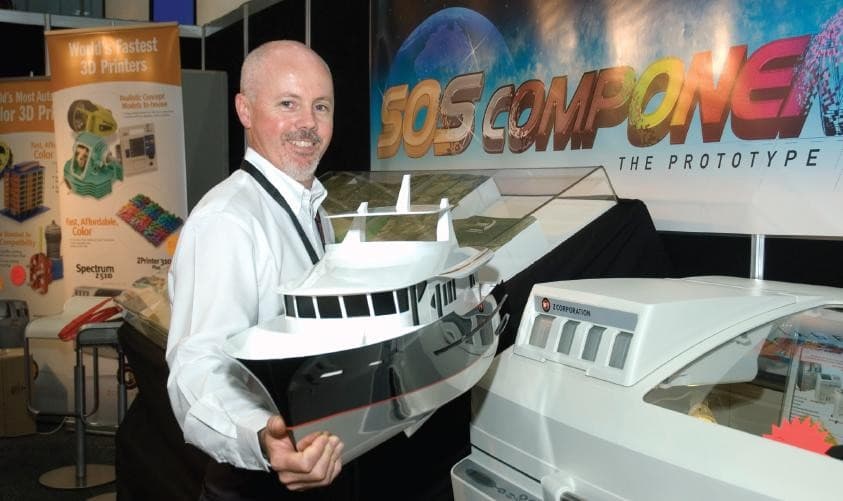 SOS Components, a leader in 3D printing technology, has come a long way since working from a humble backyard garage only six years ago.
Founder and director Jeff Condren admits he has been amazed at the company's meteoric growth.
Jeff, a former toolmaker and self-confessed tragic for all things 3-dimensional, is the driving force behind this progressive Australian company.
Jeff launched his business in a 12sqm garage at his home in Banyo an outer Brisbane suburb.
He now operates at state-of-the-art premises in the industrial Brisbane suburb of Geebung in Queensland, with a full-time staff of 11 skilled experts.
SOS Components is now recognized as a leader in its field, with orders nationally and internationally.
The secret to Jeff's success has been outstanding customer service combined with innovation and painstaking attention to detail.
"It's all about the customer," says Jeff. "I pride myself in being able to work with clients to deliver optimum solutions."
A man with a "can do" attitude, Jeff has always worked on the premise that no challenge is too great.
He proudly admits he has never had a job where he couldn't find a solution.
SOS Components uses innovative methods enabling clients to accelerate the production of prototypes and unique products. Its technology is among the most advanced in the world.
Jeff's impressive client list includes many of Australia's leading mining companies and manufacturers.
SOS Components have gained international recognition as a specialist in rapid prototyping. Put simply, they can create elaborate 3D Models from basic CAD designs.
The company provides quality precision models using the latest technology in Rapid Prototyping and Colour 3D Printing methods. CAD files are turned into static or working 3D models.
Services include:
Parts created by this method are accurate – ideal for fit and assembly checks.
 
SLS - Selective Laser Sintering
Very fine particles of Nylon powder are laser sintered (melted) together to form very durable, impact resistant and functioning part. Glass is also used to give additional strength to an already impressive product. This is the premium product for performance and durability.
 
FDM - Fused Deposition Modelling
Polycarbonate and ABS plastic blended together are used to create functional parts of any geometry. This process is useful for electrical housings and semi-functional testing where some snap fit is required.
Just like 3D Printing, wax is used to build up a part. The typical application is investment casting. The wax pattern is coated with ceramic and fired to burn out the wax before metal is poured into the shell. The result is a cast metal part of any material without the need for expensive tooling.
 
A wax pattern is created and coated in ceramic. The wax is burnt out as the ceramic is fired. As above metal is poured into the mould to form the parts.
 
Vacuum Casting/Silicon Tooling
An economical method of producing multiple copies of your design when low volumes (around 20 copies) are required. An SLA pattern is produced and Silicon is mixed and poured under vacuum around the pattern to produce a mould.
 
2 x CNC machining centres with 24-tool change for all applications
 
3D Laser scanning allows for reverse engineering. Ideal for capturing digital data from an existing part. This can be converted to give a 3Dcad file.
 
A 2D drawing can be recreated in a 3D format file to allow for digital manufacturing.

SOS Components
Ph: 07 3363 4600
www.3dprinting.com.au