SONIC-PRO ULTRASONIC FLOWMETERS: MAKING FLOW CONTROL EASY
03-11-2015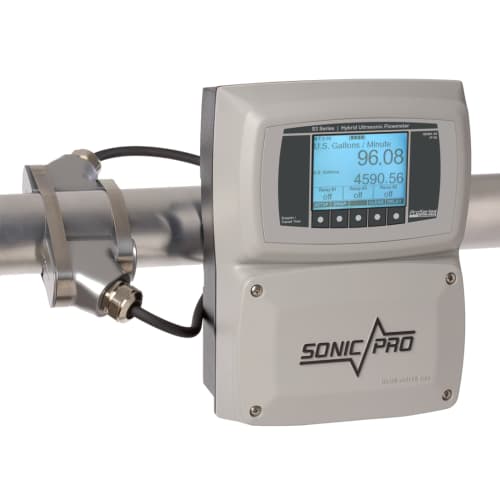 Sonic-Pro ultrasonic flowmeters are fast becoming the flowmeter of choice in many applications in the mining, quarry, landfill and process sectors.
Sonic-Pro from Toolkwip is a Hybrid Ultrasonic Flowmeter for true and accurate readings on a wide variety of fluids with selectable Doppler or Transit Time operating modes.
These flowmeters have two ultrasonic sensors that clamp onto the outside of the pipe, doing away with any need for cutting into the pipeline.
This makes installation quick and easy. It also means that corrosive or abrasive liquids are not a problem.
Also, the units can be easily relocated or used for temporary site monitoring applications.
To allow for changes in the fluid's particle count, Sonic-Pro monitors the signal gain and employs an Automatic Gain Control (AGC) algorithm that periodically adjusts the gain, maintaining the optimum power level.
Sonic-Pro Flowmeters have a host of features and benefits including:
·       IP66 rated enclosure for superior protection from the elements
·       Suits pipe sizes from 20mm up to 2500mm OD
·       No wetted parts
·       No moving parts.
Three models are available offering several custom designed features including:
·       "Smart" external communications
·       User programmable options
·       With or without display
·       Suits AC or DC power input
·       Data logging
·       Configurable outputs
·       Process control
Remote access software is available using local internet networks or add-on wireless routers.
Applications include oil production, caustics, discharge water, chemical slurries, ground water, leachate, wastewater and sewage.
Complete with a portable, rugged carrying case for easy transportation between applications, and a two-year warranty, Toolkwip's Sonic-Pro is the ultimate flowmeter for your site.
Toolkwip Pumps
03 8805 0500