Some uplifting solutions to improve workplace safety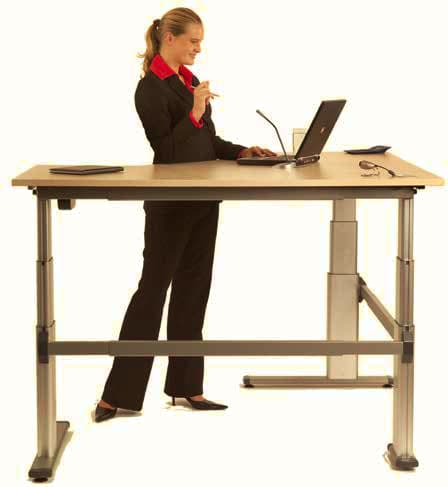 Most workplaces involve repetitive tasks.
In many jobs that means using a computer, either in an office environment, a production line, a warehouse or a laboratory.
Other roles involve different repetitive tasks. Some involve standing, or working at high surfaces, others involve sitting for extended periods.
Humans are not machines. We're not well-equipped for a limited range of movements, especially if they're awkward or difficult.
The overall idea of ergonomics developed in World War II, when the cockpits of fighter planes were redesigned, to make it easier for pilots to make quick decisions under pressure.
Most of us work in less stressful environments than wartime fighter planes, but it is still true that a well designed work environment will support better decisionmaking and productivity. Uplifting Solutions is an Australian company that's been producing and sourcing new products from around the world for over ten years, to support optimal set up of a wide range of workplaces.
Computer monitors
Computer screens are an essential part of many tasks, and being able to move your screen easily can prevent neck and eye strain. Articulated monitor arms can mount single computer screens, through to large displays of several screens for a control room environment. These range from gas articulated arms through to virtual miniscaffolding systems.
Adaptable desks
In many workplaces people need to work at standing height. While fine for part of the day, it can get very tiring after several hours. Uplifting Solutions provides a huge range of desks and seating for any situation.
Height adjustable desks, both hand-wind and electric, are now hugely popular in Australia. First introduced into Europe over ten years ago, they are now a standard office requirement in many countries. Height adjustability allows different users to vary the desk height, as well as lets them change from sitting to standing throughout the day.
Industrial chairs
Industrial chairs typically need a wider range of movement than office chairs to cope with different shifts, tougher conditions and a wider range of physical movement than in the office.
Sit-stand and drafting chairs also help people work comfortably. They are particularly useful in production and industrial workplaces, as well as in laboratories where people are using microscopes or other specialized equipment.
Chairs for wet or dusty environments need to have suitable glides or nonslip castors to prevent unintended rolling. Glides or castors for electrostatic discharge can be essential for workplaces handling flammable materials.
Uplifting Solutions has a wide range of chair bases, including spider bases incorporating foot-ladders and nonslip foot rings.
Prolonged sitting
A multi-adjustable operator chair is also essential for control rooms. For 24-hour operations each person on shift needs to be able to adjust the chair to suit their preferred working position.