SOLVING TOOL STABILITY IN DEEP DRILLING TASKS
27-03-2018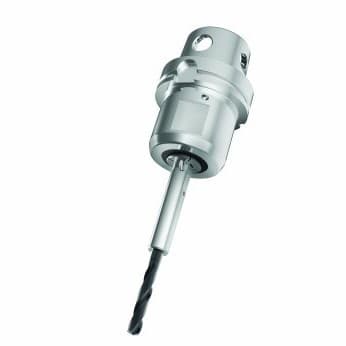 Kennametal knows that drilling deep inside workpieces can be tricky: drills often wander, and many solutions are unweildy or cause additional vibration issues. 
Dedicating its resources to solving the problem, the tooling manufacturer recently developed a hydraulic chuck extension that meets these challenges while also increasing flexibility and reducing costs.
Michael Schuffenhauer, Senior Global Product Manager Tooling Systems at Kennametal, says the company has been producing hydraulic chucks for the past 30 years, and has become quite knowledgeable about the technology behind them as a result. This new tool leverages that extensive experience.
"We asked our customers, 'How do you drill holes in deep cavities and complex pockets? Do you have problems with reaching past clamps and fixtures?'" he says. "We wanted to know how they were dealing with these issues, and the effectiveness of their existing solution. Then we set out to develop a better one."
Kennametal's new line of hydraulic chuck (HC) extensions are that better product.
Schuffenhauer details a number of key features that make the product unlike any other currently available, including runout to within 3µm (half that of its nearest competitor), greatly reduced vibration through balancing and hydraulic clamping, internal channels for tool coolant, and an ultra-slim design that allows for a great range of drill/body options. 
"Our HC Extensions are for customers that need the flexibility of a modular system but want to avoid the expense and limitations of a custom solution, as well as the constraints that come with traditional toolholders," Schuffenhauer said.
"We believe the improved performance and ease-of-use offered by this new product will soon make it the leading drill extension on the market. It's quite simply a great design."