SOLID-LIQUID SEPARATOR PROMISES ENVIRONMENTALLY FRIENDLY PERFORMANCE
08-06-2017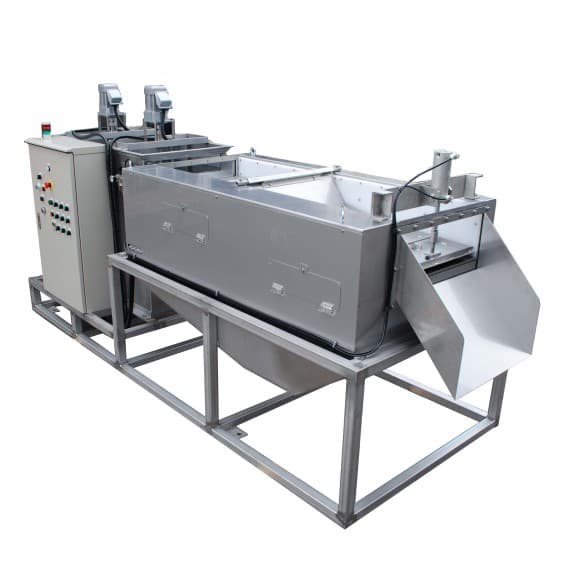 CST Wastewater Solutions is releasing a novel clog-free automatic liquid-to-solid waste separator at FoodPro 2017 in Sydney from 16th to 19th July. The compact KDS multi-disc roller separator is aimed at dewatering applications ranging from food processing, food waste, grease trap and waste oil processing through to municipal wastewater sludge, livestock manure and agribusiness processes.
The separator features a novel self-cleaning dewatering and conveying system with oval plate separation and transfer structure that prevents clogging and permits automatic continuous operation that handles oily and fibrous material with ease.
Designed for efficiency, sustainability and conservation of resources in small- to medium-scale applications, the energy-efficient KDS separator consumes as little as 0.06kWh of electricity and uses very little water for flushing.
This simple-to-maintain separator offers a high throughput within a small body, with the smallest model being just under 350mm wide and weighing 50kg. The compact rotational oval plate structure achieves high transportation and separation efficiencies, while the simplicity of the machine's overall structure offers low maintenance, achieving cost and OH&S benefits through less handling being required to clear hazardous materials.
It uses a fraction of the power of a centrifuge and uses no water usage during operation, unlike a belt press or a screw press.
When used for thickening of dissolved air flotation sludge – a very common application throughout wastewater operations – it claims solids capture of 97% thickened sludge at a dryness of 17%. Waste activated sludge dryness levels are typically 15-25%.
The KDS separator is available with hydraulic capacities from 1 to 15.5kL/h with input solids content of 2%.
CST Wastewater Solutions
02 9417 3611
www.cstwastewater.com