SOLAR PROJECT SHINES RAY OF HOPE ON AUSTRALIAN AGRICULTURE
30-06-2016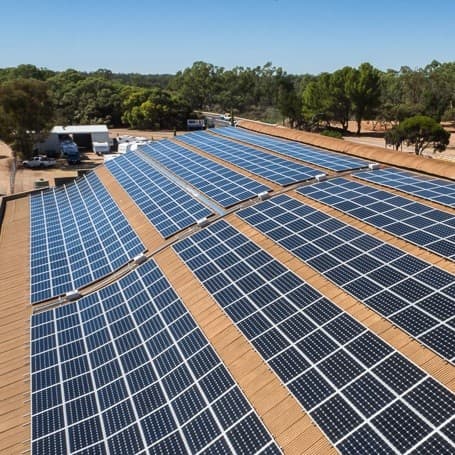 The first commercial site, which will be a 50/50 partnership between the landowner and Red Mud is on track to begin generating energy by early August.
A renewable energy project in Australia's largest grape growing region is giving struggling vignerons a sunny alternative.
An electrical services company in South Australia's Riverland is looking to build dozens of community-owned solar farms and sell the energy on Australia's volatile spot market.
The Riverland is about 250km east of the South Australian capital Adelaide and stretches for 120km along the banks of Australia's biggest river, the Murray.
Renmark–based Yates Electrical Services began its Red Mud project this year and has been running a 180kw test site for about three months.
The project ultimately aims to work with landowners to set up 100kw-200kw solar farms and sell the energy to the national electricity grid through the spot market.
Managing Director Mark Yates said under the Red Mud project, landowners could lease their land to be used for a solar farm, lease the land and buy into a portion of the farm or choose to own the entire solar farm outright.
He said the test site had shown that a 10 per cent return on investment per year was achievable.
"Red Mud is something that we dreamt up to be a lot more scalable to people locally as opposed to big superannuation funds or merchant banks investing in massive projects," Yates said.
"Effectively with Red Mud everything the site generates in the form of energy and the Large Generation Certificates are retained locally in the community."
Yates said a typical 200kw farm would cover an acre (4000sq m), include 800 solar panels on ground-mounted racks, cost between $300,000 and $400,000 to set up and return about $40,000 a year.
Story sourced from The Lead South Australia