SOLAR PROJECT POWERS SA WINEMAKERS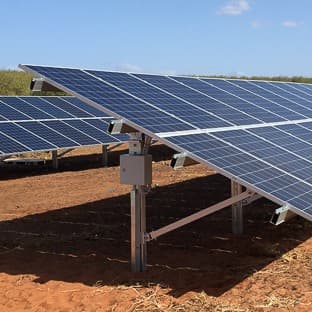 The first commercial solar farm in a project aiming to provide options for Australia's struggling vignerons has gone live.
The 187kw site in the South Australian town of Renmark was switched on to the electricity grid on September 26. It is the first of three similar-sized sites expected to be up and running before the end of the year.
Renmark–based Yates Electrical Services began its Red Mud project this year and has been running a 180kw test site since February.
Since then, 80 potential sites have been assessed with 25 of them being deemed "rating one" because of their size, location, current use, zoning and electricity network connections are ideal.
The project aims to work with landowners to set up 100kw-200kw community-owned solar farms and sell the energy to Australia's National Electricity Grid through the volatile wholesale spot market.
Managing Director Mark Yates said under the Red Mud project, landowners could lease their land to be used for a solar farm, lease the land and buy into a portion of the farm or choose to own the entire solar farm outright.
"I'd like to think that we'd have at least 10 farms on by the end of next year as a minimum but it's going to come to how susceptible the landowner is to taking a lease and how well we can market it to investors," he said.
The Riverland is about 250km east of the South Australian capital Adelaide and stretches for 120km along the banks of Australia's biggest river, the Murray.
Originally a citrus and stone fruit growing region, the Riverland turned to wine grapes in the 1980s and '90s and now accounts for more than a quarter of Australia's annual crush. But low prices in recent years have many growers considering their future in the industry.
Yates is this month setting up the leasing company Red Mud Green Energy Leasing before ramping up marketing.
"We are still working on the model to make it a bit more of a seamless transaction," he said.
"What we want people to be able to do is jump on the website, look at a site and say 'I want to buy into this site' work out how much they want to put in and then the documents will be mailed out to them so they can check out the nuts and bolts of the investment so they can sign off on it and proceed.
"Once we've got the capital set up we can start construction because we will have all the approvals and so forth in place."
The first commercial site is a 50/50 partnership between the landowner and Red Mud.
In South Australia, producers generating 100kw or more can register to trade Large Generation Certificates and access the spot market.
The state, which has high electricity prices, recently closed its last remaining coal-fired Northern Power Station in Port Augusta but is leading the world in renewable energy initiatives.
The second and third sites are expected to begin construction in mid-November and be hooked up to the electricity network before Christmas.
The first three sites will be 187.2 kilowatts (720 panels) but access to a new improved inverter will mean future farms will be 200kw.