SOLAR PANELS ON THE ROAD?
03-02-2016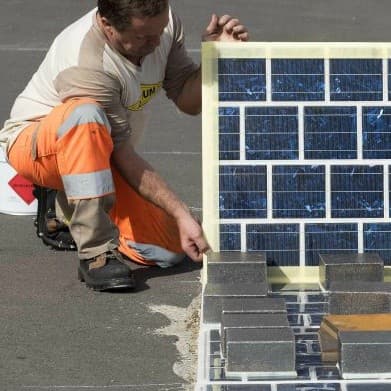 The French government has announced plans to pave the 1000km of road with photovoltaic panels over the next five years.
The goal of the new project is to supply 5 million people with renewable energy, which is approximately 8% of France's population.
With a lot of debate around the safety and cost efficiency of solar roads, the French government has taken it upon themselves to invest the development.
With similar projects in the US and Netherlands the project is nothing new, but it will be the first time that solar panels will be installed onto public roads, and the design called Wattway, can be fitted onto existing roads without replacing any existing infrastructure.
"There is no need to rebuild infrastructure," Colas CEO Hervé Le Bouc told magazine Les Echoes last year, when the panels were unveiled. "At Chambéry and Grenoble, was tested successfully on Wattway a cycle of 1 million vehicles, or 20 years of normal traffic a road, and the surface does not move."
The panels are reported to be weather proof, as the silicon cells are encapsulated to ensure that they stay dry and are not subject to wear or tear, all the while being thin enough so that it can adapt to thermal dilation in the existing pavement.
"The panels have even passed the snow plow test with flying colours," the Wattway site explains.
"Operators do, however, need to operate the machines with a bit more care on Wattway panels than on conventional pavement."
Based on research and assumption, the roads are covered by vehicles about 10% of the day, and the rest of the time are exposed to the sun, thus making it a perfect spot to harness the solar energy.  The company estimates that 20 square metres will be able to power a home, excluding heat.
At the moment there is no indication on what roads will be receiving the new pavement, and performance will be tested in the field.
"Where solar is cost effective, it is: well set up (orientation, shading, ventilation, and so on), not required to be a structural element (hence a standard module is sufficient), not displacing economic assets, and there is an electricity demand it can directly supplement," wrote photovoltaic researcher Andrew Thomson for The Conversation last year. 
"These conditions are often well met by rooftop solar systems and small scale solar farms, they are not well met by most roadways," he added.
"For solar roadways to be effective, it needs a complete technological rethink. A solution may exist, but it probably isn't solar electric."
Although concerns seem to be justified, time will tell how effective the project is.