SOLAR EAR A SWEET SOUND FOR DEAF EARS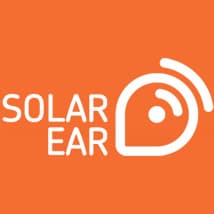 In many parts of the world there is a lack of resources, resources that are important to the betterment of the standards of living. Things that we take for granted are things that are considered somewhat of a luxury elsewhere.
Something like hearing.
The average person wouldn't really think about it. Hearing is just something that has always been there and seems like it always will be, and if not, hearing aids are a technology that are readily available. But what about when it's not?
A 2015 report from the World Health Organisation claimed that 5% of the world's population – 360 million people – has disabling hearing loss, with the majority of these people living in low to middle income countries. Globally only 10% of people who need hearing aids have access to them or can afford them.
Now enter Howard Weinstein. The life that he has lead is remarkable to say the least, originally living in Montreal with a successful career in management, Weinstein seemed to be have it all, until the night of June six 1995 when his daughter died of a brain aneurysm in her sleep, and in the week to follow, he would be fired from his job.
After seeming to have lost it all, Weinstein would put his mind to help developing countries.
"The defining moment came after I started another business in Canada after my daughter's death. I met a friend of mine who was selling these swimming pool noodles and he was telling me that he had just sold 400,000 to a large retail outlet. After this meeting I asked myself; "What do I want written on my tombstone?"
So I went back to the office and told my partner that I was selling my shares for $1." he said.
And as fate would have it in 2001 he would be invited to Africa to assist an NGO. Three days into his stay at the village of Oste in south Botswana he would meet Sarah, a local deaf student, and although it would take Weinstein a year, he was able to give Sarah a hearing aid.
Because during his time at Otse, he worked with engineers to develop low cost hearing aids powered by Solar rechargeable batteries, and a solar charger, giving birth to Solar Ear.
A traditional hearing aid costs at around $500-$5000, something that many in developing nations simply cannot afford. The batteries are also another issue of their own as a standard battery lasts an average of one week, and costs one dollar, which is still almost impossible for many low income earners in developing nations such as Africa.
"It makes no sense that the least expensive hearing aids on the market have an average starting price of $1800" Weinstein said.
Solar Ear provides both hearing aids and rechargeable batteries that last up to 2-3 years and can be used with 80% of hearing aids currently in the market, making them far more affordable and sustainable for low income earners in developing nations.
But beyond that, beyond the tech, what makes Solar Ear even more of a social endeavor is their workers. The initial stages of creating the Solar Ear were with the deaf community of Africa.
"I sat down with young adults from a local school for the deaf in rural Botswana and asked them to tell me about their lives, their hopes, their dreams, the problems of being deaf in rural Africa. They came up with the idea of a rechargeable hearing aid battery and solar charger. They invented the products, manufacture them and teach others how to manufacture them" he said.  
Even today Solar Ear trains, hires and employs young deaf people, to give them an opportunity to create the technology that is furthering their community.
"I feel it you give a hearing impaired person the opportunity to trumpet their talents to civil society it will present further opportunities for them, the larger deaf community to the benefit of all society" he said.
The organization does not only create and hire, but also develops screenings to ensure that hearing disabilities are picked up from as early as birth. According to Solar Ear, the 3 process screening application will target those who are often the hardest to diagnose: babies and children, and in conjunction with MIT, is developing a low cost, simple to use, Android smart phone based, open source, OAE testing device, for babies and infants called Baby Ears.
"In order to give a hearing impaired child a chance, they need to be fitted with hearing aids and also learn how to communicate in sign language with the hope that they would eventually pick up spoken forms of communication." Weinstein said.
When asked if there were plans to expand, Mr Weinstein said:
"I would love to start manufacturing our products in Australia by young Aboriginal people who are deaf for the people with a hearing loss in Australia, New Zealand and surrounding countries. It would be a sustainable social business and i would give over 1 million dollars of technology for free." He said.
But where from here?
According to Weinstein his hope is to totally democratise and socialise the hearing aid industry by bringing in products and services on a smart phone platform with the cost starting at $1.
"It will be a very disruptive business model, very sustainable and will help- within the next 5 years -100 million people as well as for the first time start to lower the rate of hearing loss in the world.
"Our goal is to prevent hearing loss not sell hearing aids for those who have a hearing loss."He said.