SOLAR CELLS SO LIGHT THEY CAN SIT ON SOAP BUBBLES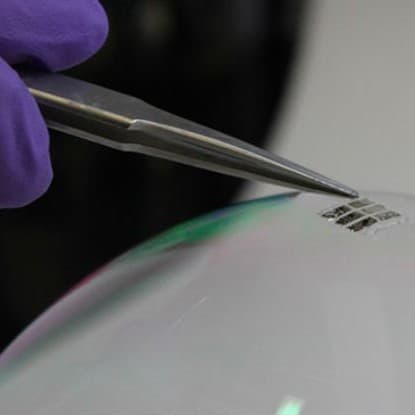 Scientists have now created an incredibly thin and flexible photovoltaic cell that is lightweight enough that they can sit onto of a soap bubble.
The hope of these thin cells is that they will eventually be able to be place on smart clothing or helium balloons.
"It could be so light that you don't even know it's there, on your shirt or on your notebook," said one of the researchers, Vladimir Bulović from MIT.
"These cells could simply be an add-on to existing structures."
This versatility is what is causing such a stir. The most important step for the creation of these cells is the way that the scientists are combining the solar cell, the substrate that supports it, and its protective coating, all in one process.
The advantage of growing the cell and the substrate together is that it can protect from dust and other outside containments.
The whole process takes place in a vacuum chamber at room temp, using no harsh chemicals. The vapour deposition techniques – where heat, pressure, and chemical reactions create a very thin coating of a particular material – are used to grow the substrate and the solar cell together.
The team says that it's the technique not the materials that make this so incredible.
The cells are just one-fiftieth of the thickness of a human hair, and one-thousandth the thickness of existing glass-based cells.
In fact, they may be too thin to be practical: "If you breathe too hard, you might blow it away," said Joel Jean, another of the researchers involved.
The team's findings have been published in Organic Electronics.