SOFTWARE PROVIDER PRESENTS CUSTOMER EXCELLENCE AWARDS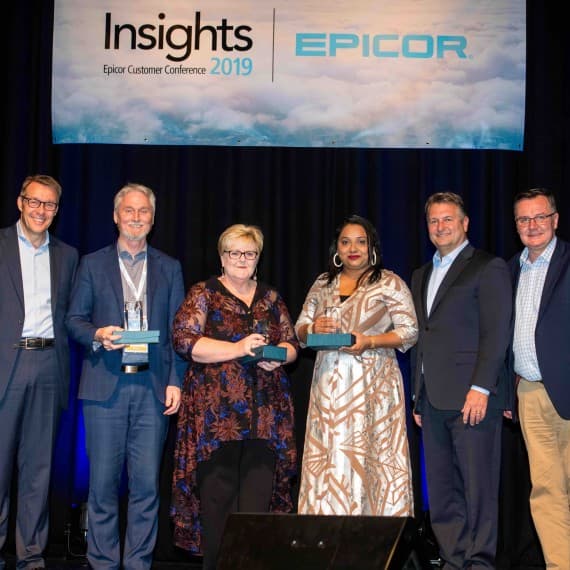 Andy Coussins, Epicor; Garry Crispin, St Andrew's Hospital; Michelle Ahola, Klinger; Shulun Janif, Fiji Airways; Clarke Pich, Epicor; Greg O'Loan, Epicor
Epicor Software has presented its Customer Excellence Awards for Australia and New Zealand. The awards mark the company's continuing support for and recognition of manufacturers as they seek to become more competitive in today's Industry 4.0 world. The 2019 winners were announced at the annual Epicor Customer Summit in Sandy Bay, Tasmania.
The global awards programme, now in its fourth year, recognises the accomplishments of innovative organisations that have successfully transformed their operations by deploying Epicor solutions and services to achieve a truly connected enterprise. These connected solutions bring together data analytics and automated control across the factory and the warehouse to create intelligent production environments that boost the productivity, quality, compliance and profitability of their business.
Perth-based Klinger, which manufactures and distributes gas and fluid sealing solutions, won the Business Transformation category. Using Epicor ERP to optimise business processes, it implemented the Lean Six Sigma approach across its operations. It re-orchestrated transaction flows and leveraged new technologies, including packaging control, to enhance warehouse performance. By implementing advanced business process automation, it was able to reduce waste, improve order-to-shipment velocity and achieve impressive scheduling efficiencies. As a result, standard production is now planned up to 10 days in advance, compared to the previous three days. The company is on track to achieve a 15 per cent uplift in plant and equipment productivity within the next six months.
Adelaide's St Andrew's Hospital won the Cloud Deployment category. Committed to transforming hospital practices and improving resource utilisation, it is using Epicor cloud ERP to power a range of digital-first initiatives that enhance staff productivity and drive operational efficiencies. Most recently, it has begun using Epicor Mobile Warehouse devices to track and monitor medical and other inventory in real-time. It has obtained enhanced visibility and reporting on inventory location, availability and utilisation costs, and has streamlined a number of related operational and management processes.
Fiji Airways won the Technology Innovator category. Undertaking a major Epicor ERP re-implementation to automate bank reconciliation processes and streamline interactions with other business systems and applications, the Fijian national airline successfully integrated Epicor accounts payable with its external banking partner systems. Saving more than 390 hours of staff processing time per month, the newly automated interfaces have enhanced supplier and customer relationships, thanks to more timely international payments, improved accuracy, and faster remittance processing. Alongside streamlining financial processes, the airline now has a modern ERP platform to support business growth and value creation through timely financial monitoring. Building on the gains generated from enhanced asset management, currency management and enhanced procurement capabilities, the airline plans to use its new ERP platform to enable future company-wide process improvement initiatives and innovations, including a paperless invoice approval process based on DocStar.
Epicor Customer Excellence Awards programmes are run in the Americas, Asia Pacific, Europe, Middle East, India and Africa. Entries are judged in three key areas: the complexity of the project, clearly stated objectives, and the overall business impact of the initiative relative to stated goals. The regional programme winners are automatically considered as finalists in the global categories for overall Customer of the Year and will be announced later this year, after the regional awards programmes have concluded.
"These awards are a testament to how our customers continue to innovate and push the boundaries, using Epicor solutions to work smarter, gain results rapidly, and grow sustainably," Epicor Software Senior Vice-President and Head of International Sales Andy Coussins says. "This year's winners transformed their operational practices, becoming truly connected enterprises that have reaped the rewards of enhanced business agility and breakthrough outcomes."
Epicor Software Corporation
02 9927 6200
www.epicor.com/australia