SOFTWARE GRANT PUTS UQ ON TRACK TO INDUSTRY 4.0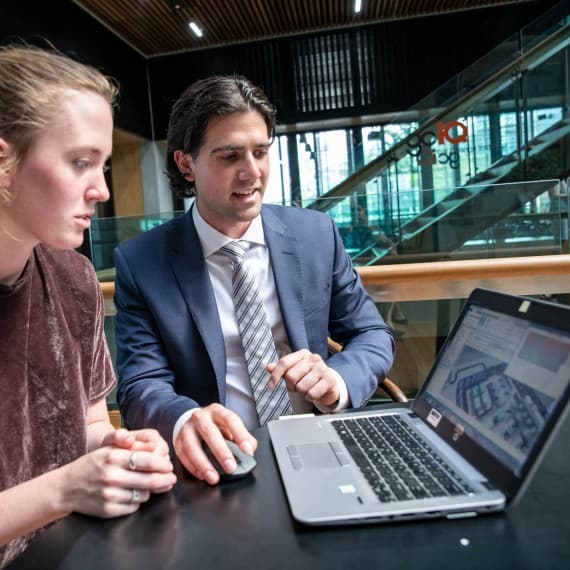 A UQ student is shown the PLM platform by Richard Berman from Siemens Australia
In the fourth such grant, Siemens has committed to donating engineering software worth more than $0.5 billion to University of Queensland (UQ).
In announcing the grant, Siemens Australia Chairman and CEO Jeff Connolly
said, "I'm delighted to be here today announcing the grant of Siemens' advanced industrial software to the University of Queensland. Our history in Queensland dates back over 100 years - and this grant reiterates our commitment to continued technology partnership with the State.
"Put simply, for Australia to take advantage of the opportunities that come with the fourth industrial revolution, we need to build a future workforce now, with the skills needed to participate – and that's exactly what this grant is about. Partnerships such as this with the University of Queensland are critical to giving students exposure to digital technologies being used by leading companies globally. I'm pleased to see that this grant supports Queensland Government's Advance Queensland agenda," said Connolly.
Queensland Premier Annastacia Palaszczuk welcomed the grant, saying: "The Queensland Government has a 10-year plan to transition the state's manufacturing sector to more advanced manufacturing high-paid, knowledge-based jobs by 2026. Advanced software is crucial to this transition. I welcome the grant from Siemens into our state and look forward to their continued collaboration with our local researchers and students at University of Queensland to progress our industry not just in Australia, but globally."
The grant is part of Siemens' commitment to helping enable Australian students and universities to develop the skills needed to successfully participate in the fourth industrial revolution.
According to Professor Peter Høj, Vice-Chancellor and President of the University of Queensland, "This grant gives our students and researchers access to advanced software used by leaders in the automotive, aerospace, shipbuilding and electronics sectors. UQ strives to invest in opportunities that give our students the skills and experience to succeed in any industry."