SOFTWARE CREATES REVOLUTION IN AUGUR FLIGHT FORMATION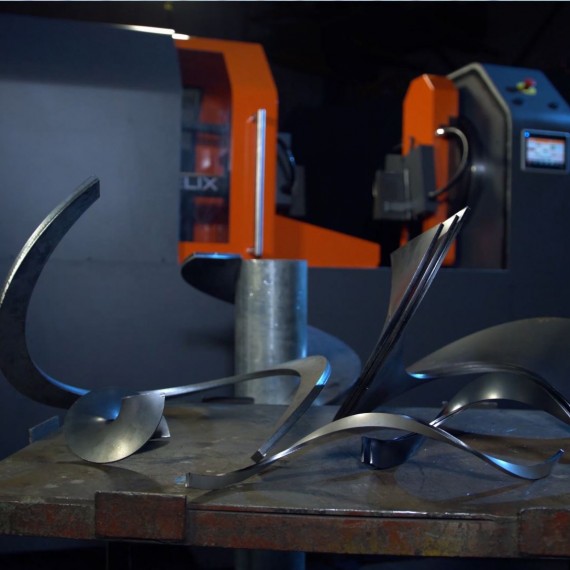 Sydney-based manufacturing start-up RoboHelix is using Solidworks software applications to revolutionise, streamline and optimise its design processes.
RoboHelix is creating robotic systems that automate the helical flight formation process used for products like augers and other drilling equipment used in industrial sectors from agriculture to mining and construction.
Auger centrifuges are tools that are critical to the conveyance of materials in materials handling, geotechnical and mining projects. Smooth material displacement operations for such projects depend on the precision of the auger fins or blades, commonly referred to as "flights", formed out of stainless steel or abrasion-resistant steel.
The traditional way of forming auger flights uses hydraulic machines that wield bulky industrial dies, die plates and platens to form the pitch and size of flight diameters. These die plates and platens are often bulky to handle and time-consuming to tool, adjust and set up, not to mention cost-prohibitive to replace if they are damaged.
The hydraulics are manually operated with the operators hands just millimetres away from reciprocating jaws exerting forces up to 50 tonnes, operator injuries are a high risk, resulting in calls for higher safety standards in helical flight production.
RoboHelix machines incorporate robotics that completely automate flight production. And they have been proven to increase flight formation setup rates by up to 45 times and reduced power consumption of flight production by up to 300 times.
"We developed the RoboHelix prototype based on the deficiencies we saw in traditional flight forming methods and to introduce a robotic system to automate flight movements," says Hayel Smair, CEO and Founder of RoboHelix.
"Flight formation is a very precise science. Dassault Systèmes' Solidworks design and simulation applications were integral for us to develop an 8-axis robotic system capable of handling the tolerances necessary for the precise nature of flight production."
RoboHelix has become a global exporter to major auger and material handling equipment manufacturers based in Europe and the USA within just two years of its inception. RoboHelix will continue working with the new features of the Solidworks 2020 portfolio of applications as the company expands and looks to introduce more innovative robotic technologies into its range of flight manufacturing solutions.
Dassault Systèmes
08 9420 1333
www.3ds.com