SOFT DRINKS COMPANY UNLEASHES TURTLE IN OCEAN CLEAN-UP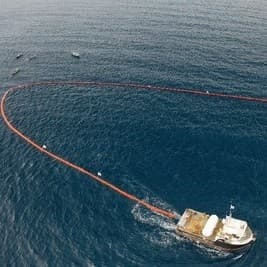 Amidst global concern about plastic waste in the world's oceans, it is rather ironic that it is a soft drinks company that is actually doing something about the problem. SodaStream International, which has always taken a different approach to the soft drinks market, is now taking a different approach to cleaning up the mess with the launch of its Holy Turtle.
The Holy Turtle is a massive ocean contraption designed to clean plastic waste from open waters. The innovative device will be initially piloted today in the Caribbean Sea, off the coast of Honduras, as part of a bold ocean clean-up lead by CEO Daniel Birnbaum. This is the first-known attempt of a commercial company to undertake a physical clean-up of plastic waste from open waters.
The Holy Turtle is a 300-metre-long floating unit designed to be gently towed by two marine vessels along kilometres of open waters. The contraption is uniquely engineered to capture floating waste while its large vent holes avoid damage to wildlife. The device design was inspired by the spill containment systems used in the oil industry.
The initiative for the Holy Turtle comes from SodaStream CEO, Daniel Birnbaum, who says: "We can't clean up all the plastic waste on the planet, but we each need to do whatever we can. The most important thing is to commit ourselves to stop using single-use plastic."
The plastic pollution collected by the Holy Turtle will be used to create an exhibition to raise awareness and educate consumers around the world toward reducing consumption of single use plastic in all forms including plastic cups, straws, bags and bottles.