Soanar's low cost power solution
31-08-2010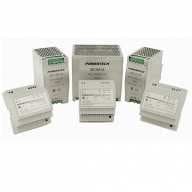 Leading power supplier Soanar has the answer for manufacturers and others in industry seeking a low-cost solution to reliable power.
Building on 50 years of experience manufacturing and supplying power supplies in the Australian market, the SD series of enclosed AC/DC switchmode DIN rail power supplies tick all the boxes.
It comes with a two-year warranty, high efficiency and performance, and compliance with international safety requirements.
The power range of 30W, 45W, 60W, 75W 120W and 240W is ideal for a broad range of applications. Stocks cover 12VDC, 24VDC and 48VDC outputs.
Other notable points include a voltage tolerance of +/- 1 per cent, adjustable output voltage of  +/- 10 per cent, universal AC input voltage of 90-264VAC and 100 per cent full load burn-in.
The stock is ex-Sydney and comes with full engineering and sales assistance.
Soanar's experienced technical support team can deliver intelligent power solutions for industrial and manufacturing applications.
Soanar
Ph: 1300 365 551