FROM SNOW BUNNY TO WORK HORSE: SILENT DUST SUPRESSION CREATING A LOT OF NOISE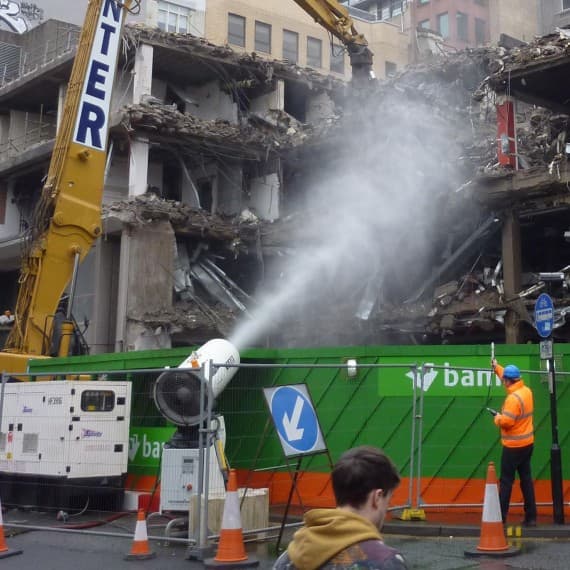 From the snow fields to heavy industry - such as mining, construction, recycling and materials handling - there is a now a dust suppression solution that's turning heads for all the right reasons.
If you have spent time in the Australian snow fields, you would have seen the snow makers in action. They need to be powerful yet quiet to ensure they do not disturb the skiers. They also need to be reliable and durable to ensure the components can withstand the harsh environment of the snow fields.
Enter the V12S Dust Cannon, designed and manufactured in Italy. The V12S is a silent dust suppression solution that's quiet enough to use in city demolition sites and durable enough to use in mining and materials handling applications.
The durability of the V12S Silent Dust Cannon comes from its design, with the unit boasting metal components while competitors' units are made from fiberglass or plastic. Operators report it is easy to use as it can be controlled by remote control, a touch panel on the electric cabinet or via software.
The V12S features centrally located nozzles with ceramic inserts, which generate a highly effective fine mist to bind dust particles at their source. In windy conditions, the location of the nozzles within the jet stream protects the droplets from being blown off course. This produces minimal disruption to mist throw length while the state-of-the-art valve technology provides efficient water usage.
The greatest benefit of the V12 Silent Dust Cannon is its quiet operation which boasts 67dB-55dB at 20 metres. To put that into context, a typical lawnmower measures 90dB. That means the V12 Silent Dust Cannon is ideal for suppressing dust at city demolition sites by operating within most noise level requirements.
The V12 Silent Dust Cannon is now available in Australia through Tecpro Australia, a specialist engineering supply company located in Castle Hill, NSW. Founded in 1982, Tecpro Australia specialises in providing reliable advice and products for a vast array of industrial applications.
Tecpro Australia
02 9634 3370
www.tecpro.com.au