SMOOTHING THE SWITCH TO THE NEXT GENERATION OF LOGIC MODULES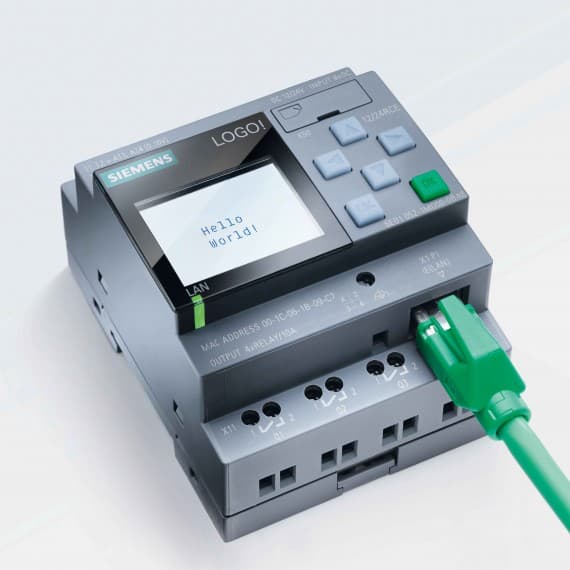 RS Components is working with Siemens to help users upgrade to the latest generation of intelligent logic modules for industrial automation. Following last year's announcement from Siemens that it would phase out its existing LOGO! 6 series of logic controllers, the LOGO! 8 range is now the ideal replacement.
RS is not only offering a full selection of LOGO! 8 logic controllers, the company is actively helping customers to migrate to the new series. RS has created a migration guide in multiple languages, highlighting the key benefits of the LOGO! 8 series with links to additional content, including videos and articles published on the RS DesignSpark community website.
The LOGO! 8 series incorporates several upgrades over the LOGO! 6 series, including a new 6 x 16 display with greatly increased contrast, and full Ethernet communications on all logic modules. The Ethernet interface allows communication with up to eight logic controllers in a network, as well as other devices such as a SIMATIC S7 PLC or HMI panels.
Each logic module has its own integrated web server, and so can be configured and controlled over the Internet using the supplied LOGO! software, with no need for HTML programming knowledge. And whereas the LOGO! 6 modules used special memory modules for expansion, the LOGO! 8 design allows the use of a standard micro-SD card.
Siemens Comfort V8 PLC programming software supports the transition to LOGO! 8, and so LOGO! 6 users will also be able to continue using their legacy programs. The software now allows up to 400 function blocks, rather than the 200 previously available.
Further information on the transition to LOGO! 8 is available from the RS DesignSpark community website.
RS Components
1300 656636
au.rs-online.com