SME MANUFACTURERS SLOW TO OPEN THEIR PURSE STRINGS
11-08-2015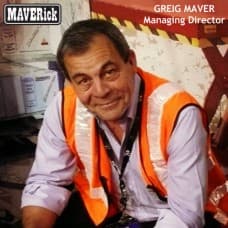 Manufacturers across Australia were convinced the federal government's budget stimulus package was the tonic needed to revive the flagging industry sector.
Yet, it appears many manufacturers have been reluctant to open their purse strings and take full advantage of the new saving measures.
Treasurer Joe Hockey unveiled the small business package in the May Budget, which delivers more than $5 billion in benefits to 96 percent of businesses with turnovers of less than $2 million.
As well as generous company tax cuts, the package provides an incentive for SMEs to purchase new and used capital items worth up to $20,000.
Under the new scheme all small businesses (under $2m turnover) can deduct the full cost of these assets from their taxable income up until June 30, 2017.
The government claims the Growing Jobs and Small Business package is "the biggest small business initiative in our nation's history."
But Mr Greig Maver, managing director of MAVERick Equipment, lifting equipment specialists, is bewildered as to why so few businesses are taking full advantage.
He admits the response to the scheme has been poor since the May announcement, and he's at a loss to understand why.
Mr Maver's long-standing material handling business carries about 400 items under the $20,000 Budget threshold.
"They (customers) should have been streaming through the door to buy new equipment – but it hasn't happened."
It may be a combination of reasons, he explains.
"Many people either don't believe it or they don't fully understand it.
They have probably heard it all before – but this time it's for real.
"On the other hand businesses with an annual turnover of $2 million or less, possibly don't have the working capital or are paying little or no tax.
"Or they may think the offer ended last financial year, when in fact it continues for two more years, until June 30th 2017," he says.
Mr Maver says from his experience there is always a general mistrust of all things political.
"We usually try to run our businesses profitably in spite of multiple levels of bureaucratic government interference and impediments, never expecting anything remotely helpful to come from that quarter. So this initiative makes a very pleasant change.
"More people should be talking it up. Treasury, in particularly should be doing more to promote it and create more awareness.
"This is the best thing I have seen in years – it's a fantastic deal.
"It's an outstanding opportunity for manufacturers and other small business capital item users."
Greig has put his money where his mouth is, using this added incentive to update old and worn out equipment, and commit to another full-time employee.
Shortly after the package was announced he purchased two new modern, safer, work vehicles, each valued at $19,970, as well as replacement carpet worth $9,000 to fit-out his workplace, new air-conditioning unit and factory heater for the workshop.
"All up I spent nearly $60,000 in one week, knowing I could claim a tax refund of nearly one third of this back the following month."
"If this doesn't help, nothing will, he says. "This is the best thing we have seen in years. I don't think people realise how good this is."
"But sadly this great scheme will fall dead in the water if the Government and industry don't continue to push and promote it."