Safety in the Workplace, News, Manufacturing Technology
SMC Energy Conservation Group Develops Global First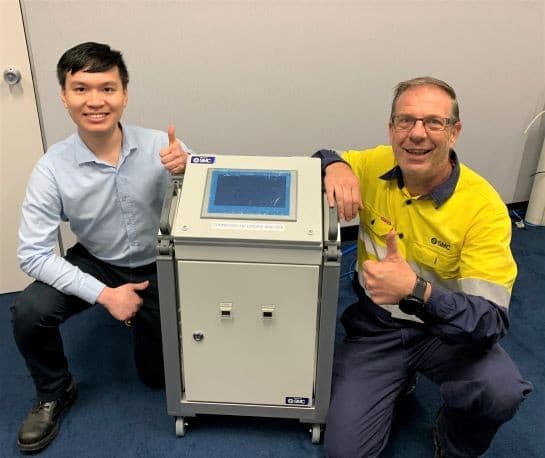 In an exciting world first, an innovative portable Compressed Air Leakage Analyser, which does not require 'host' machine reprogramming, has been designed and built in Australia.
SMC Corporation Australia New Zealand's Energy Conservation Group has commissioned the Compressed Air Leakage Analyser, which has now been exported to a global food manufacturer in Dubai.
According to SMC, the plug-and-play solution can be easily installed and is used to manage and monitor the host machine whilst calculating air consumption for the predetermined pneumatic application.
With direction from the groups' ANZ Energy Conservation Manager Bill Blyth and members of the Sydney based team including Project Engineer Alex Bonella and Mechanical Engineer Tim Ho, developed the system to help customers to realise real energy (cost) savings.
"Finding and assessing individual leakage in a compressed air system can be costly and time consuming," says Bill.
"This state-of-the-art analyser makes use of a SMC monitoring technology to identify the location and volume for individual leaks – both static and dynamic.
"A bonus is the ability to also carry out consumption and usage profile analysis for the machine during operation – without the need to reprogram the host machine or process," which he says is the real time and labour-saving aspect.
SMC has long focused on reducing the energy costs associated with compressed air applications and with the Global formation of the SMC Energy Conservation Group in 2015, has a team of experts dedicated to developing and integrating technologies to reduce energy usage (and costs) for its customers.
"This truly is a gamechanger for manufacturers. It allows the machine owners to make informed decisions about easily identifying and prioritizing when there is need to repair a leak and what the real value is to your business," Bill adds.
The analyser will develop and provide a file detailing all measured leaks and other relevant compressed air data and costs – allowing detailed machine maintenance analysis.
The Compressed Air Leakage Analyser is now available for both local and global applications and can be tailored to suit the many valve control protocols including serial and parallel connected platforms.
Founded 60 years ago, SMC operates in 83 countries and employs 19,000 people across the globe.
SMC offers more than 12,000 basic products with over 700,000 variations and is the world's leading pneumatics provider.