Smartwasher: the safe way to clean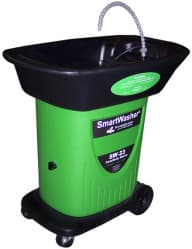 ChemFree Corporation is a global leader in the manufacture of bioremediating parts washing systems.
Its systems are sold in more than 40 countries worldwide and are renowned for their bioremediation capabilities.  
For 20 years the SmartWasher, OzzyJuice and OzzyMat products have been greatly reducing or eliminating the generation of liquid hazardous waste and waste hauling.
For the past 18 years Centralised Pumping Systems has distributed the SmartWasher system in  Australia, New Zealand and South East Asia.
With the support of Chemfree and a strong distribution network, Centralised Pumping Systems branded as Smarter Clean Green, has been providing a safe and healthy alternative to hazardous solvent use and is easily integrated into any company's "green initiative" program.
The products are non-hazardous, non-flammable and pH neutral – safe for employees to use and be around. 
Because the system is bioremediating, the grease, oil and other contaminants, cleaned off the dirty parts become a harmless by-product of carbon dioxide and water – they simply evaporate.  Topping up the unit with OzzyJuice when it is low and changing the OzzyMat once a month, to rejuvenate the microbes, is all that is needed to maintain this environmentally friendly and environmentally responsible parts washing system.
OzzyJuice degreasing solutions are Clean Air Certified (AQMD), NSF certified and have numerous approvals.  SW6.8 is specially formulated and approved for use in military and weapons cleaning and some aircraft cleaning applications.  
SW-4 Heavy Duty OzzyJuice cleaning solution has been awarded the Environmental Protection Agency's (EPA) Design for Environment (DfE) seal of approval. 
OzzyJuice solutions contain a unique mixture of pH neutral emulsifiers and surfactants, no solvents, no OSHA regulated chemicals, no known carcinogens, no ingredients requiring EPA SARA Title III reporting, no RCRA hazardous waste chemicals and no items on the CERCLA hazardous substances list. 
All of the OzzyJuice solutions are pH neutral, non-hazardous, non-flammable, non-caustic, non-toxic surfactants that clean as quickly as dangerous solvents.
The OzzyMat is the key component in the SmartWasher System. 
It is designed to introduce and deliver microbes (called Ozzys) into the unit. 
The Ozzy microbes break down (eat) the grease, oil and other contaminants washed off the dirty parts and create a harmless by-product of carbon dioxide and water.
This patented process keeps the SmartWasher system working at peak performance, while also reducing excess clogging during the 30-day period of use.
A proven effective parts cleaning system reduces the release of VOC's and eliminates the generation of liquid hazardous waste for automotive, industrial, government and commercial users.
The cost effective SmartWasher is an innovative and environmentally responsible and safe parts washer that works.