SMARTSCHOOL IMMERSES KIDS IN THE DIGITAL REALM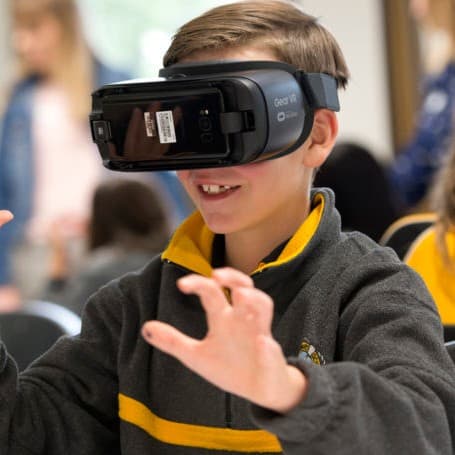 In an ever-changing world of technological advancement, it's easy to get left behind. That's why a high-tech education centre is getting kids familiar with cutting-edge technology as early as possible.  
Located at the University of South Australia's Magill campus, the Samsung SMARTSchool combines the university's leading education research with advanced technology.
Educators will have access to the facility for advanced teacher training, mandated by practice-based learning and research into the future of learning.
The centre will also provide a learning environment for all primary- and high-school students, featuring Samsung technology including virtual reality products, large-format display screens, interactive whiteboards, Galaxy S8 smartphones and tablets.
Professor Stephen Dobson from UniSA's School of Education said the facility would benefit teachers, education researchers and team-based learning among students from across Australia.
"From data collection and analysis for sports science, to learning about radar and GPS technologies applicable for defence and civilian settings, or the future of manufacturing through 3D printing, the Samsung SMARTSchool will give students access to practical, career-focused learning," he said ahead of today's opening.
Samsung Electronics Australia Head of Corporate Social Responsibility Tess Ariotti said the centre would inspire the next generation of innovators, creators and community leaders in Australia.
"It is critical that we equip our students, teachers and wider community with the skills, knowledge and tools that are important to the workforce of the future," she said.
"Our close collaboration with UniSA has helped us to create a purpose-built learning environment which will support teachers and encourage students to think creatively, work collaboratively and solve real-world problems."
Federal Education Minister Simon Birmingham said the facility was an example of how universities and business could collaborate to increase STEM engagement in Australia.
"With technology evolving at a rapid pace, it's important that our teaching methods and practices also evolve," he said.
South Australia's capital Adelaide has three-long standing public universities, Flinders University, University of South Australia, and the University of Adelaide, each of which are consistently rated highly in the international higher education rankings.