SMART PLASTICS MAKE MACHINE MAINTENANCE INTELLIGENT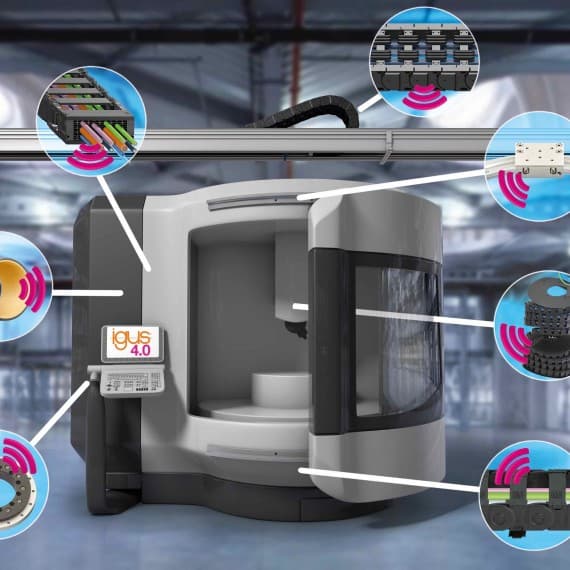 Maintenance in the era of Industry 4.0 means a clear change of paradigm. 'Predictive maintenance' makes it possible to continuously monitor the status of a machine tool, which can reduce unscheduled shutdowns and the costs of failure. Instead of merely reacting to a failure or fault or carrying out maintenance at fixed intervals, repair or replacement can be carried out only when necessary.
In order to make this possible, igus has developed sophisticated smart plastics, using a variety of sensors and monitoring modules for e-chains, plain bearings, linear bearings and slewing ring bearings. By networking with the new igus communication module (icom.plus), the sensors are integrated into the company's own IT infrastructure, for example into production management systems such as SCADA and MES, or online into cloud solutions.
icom.plus is programmed with initial service life algorithms on the basis of igus's configuration tools and, at the customer's request, can be operated offline without an update function after online installation. The user can therefore decide how the module is connected and how the data is managed, while establishing a balance between runtime maximisation and IT security.
If the customer chooses online connection of icom.plus, the service life information is continuously compared with the igus cloud in order to enable maximum machine run times with a minimum risk of failure. The data in the cloud draw on the 10 billion test cycles of e-chains and cables performed in the company's own 3800m2 test laboratory annually. On the basis of these tests, the results of which are incorporated into the freely available service life calculator, it is possible to precisely predict how long an e-chain, for example, will work reliably in a particular machine tool application.
Thanks to the isense components, the service life is continually updated, giving the customer additional reassurance. This is because each update takes into account the current ambient conditions of the application. Thanks to machine learning and continuous improvement, precise information on the durability of the individually used solutions in real applications can be obtained. This information can be viewed on the screen of the machine control system and, if online connection is chosen, an SMS or email can provide the relevant details if unexpected operating states occur or maintenance is impending. At an early stage, users are informed if there is a need to procure replacement parts. A wide range of scenarios such as automatic initiation of maintenance work or the ordering of replacement parts as well as 'e-chain as a service' can be implemented.
Treotham Automation
1300 657 564
www.treotham.com.au