Smart new cabinet range from NHP
31-08-2010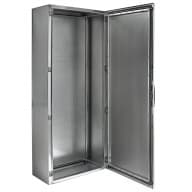 NHP has added new Eldon 316 stainless steel floor standing enclosures to its extensive range of floor standing cabinets.
Manufactured using leading edge technology, the 316 stainless steel enclosure lines are designed to meet highly demanding functional and aesthetics needs.
The range is ideally suited for the food and pharmaceutical industries, outdoor applications and marine environments as well as use in complex applications requiring increased corrosion resistance.
The Eldon 316 Stainless Steel Floor Standing Enclosure portfolio comprises bayable and welded enclosures with standard dimensions ranging from 1800 x 600 x 500mm up to 2000 x 1200 x 600mm.
Further, double door-welded enclosures from Eldon and NHP offer an innovative design and the highest protection rating NEMA4X/ IP66.
The EKDS range comes with a welded vertical divider and individual doors with an independent locking system. It is specially designed for use in sanitary wash down production environments.
Contact NHP below using the different contact options.