Smart move: Kennards new QR code technology
31-08-2010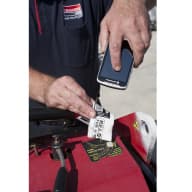 Kennards Hire, a leader in equipment hire and rental, is now using new QR Code technology to improve safety and efficiency.
The technology has been developed especially for Kennard's specialist businesses including lift and shift, pump and power, traffic, concrete care and rail.
The Kennard's hire lift and shift business offers equipment to help move heavy loads, access tight spaces, manoeuvre bulky goods and shift high volumes of material efficiently.
The availability of the QR Codes allows operators, foreman, and safety inspectors to have easy access to service and maintenance history. This insures the machinery and equipment is in safe and meticulous working condition.
Additionally, test and examination certification, maintenance schedules and user manuals can also be accessed with the quick scan of a smart phone. 
Work site efficiency and safety are some of the core benefits customers can also expect to reap with the QR Codes allowing for quick on-site compliance and safety checks on all Kennards Hire Lift and Shift equipment and machinery.  
To use the technology customers simply download a QR code reader for their smart phone, scan the code on the "Ready for Hire" label and then browse the plant portal which has all the information readily available.
Alternatively, customers can enter the plant number via the Kennards Hire Plant Portal Site to access the information.
For more information visit www.kennards.com.au