SMART GRID GATEWAYS SET UP SECURE CONNECTIONS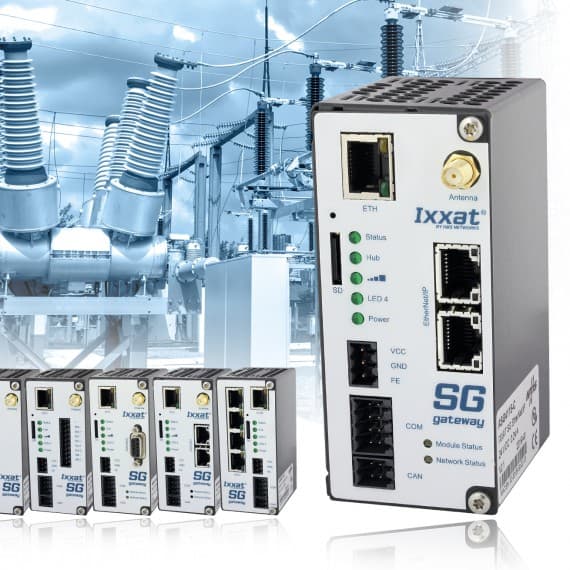 HMS Networks has upgraded its Ixxat SG series of gateways that are used to link IEC61850 or IEC60870-5-104 based energy networks with common fieldbus and Industrial Ethernet systems. New functions include Mediabreaker functionality and support for IEC60870-5-101, DNP3, OPC-UA and MQTT. The user management has also been improved and a version with an integrated Ethernet switch is available.
Demand for energy system gateways like the Ixxat SG series is growing with the trend for on-site generation, whereby companies are both consumers and producers of energy. However, the adoption of such architectures brings increased security risks.
Ixxat SG-gateways already support secure data transmission via VPN and the IEC60870-5-104 protocol. However, according to the TSO (Transmission System Operators) specifications, the transmission medium must also be changed to add a further security layer and thus prevent malicious code from being passed on to the terminal device.
The integration of the IEC60870-5-101 protocol enables the user to connect 101-compatible devices to the control rooms of the respective operators in accordance with the TSO specifications.
The Ixxat SG gateways enable an easy "break" between Ethernet-based (IEC60870-5-104) and serial (IEC60870-5-101) communication. With only one Ethernet port and one serial interface, the specific MediaBreaker version is ideal for this application.
All SG gateways now also support the DNP3 protocol which is widely used by companies in the energy sector in the UK, Australia, the USA and other countries. Furthermore, users can also benefit from an updated user interface for even easier configuration and management of connected devices.
Global M2M
03 9338 8189
globalm2m.com.au